Republic Polytechnic Parents' Talk: Is Poly For My Child?
to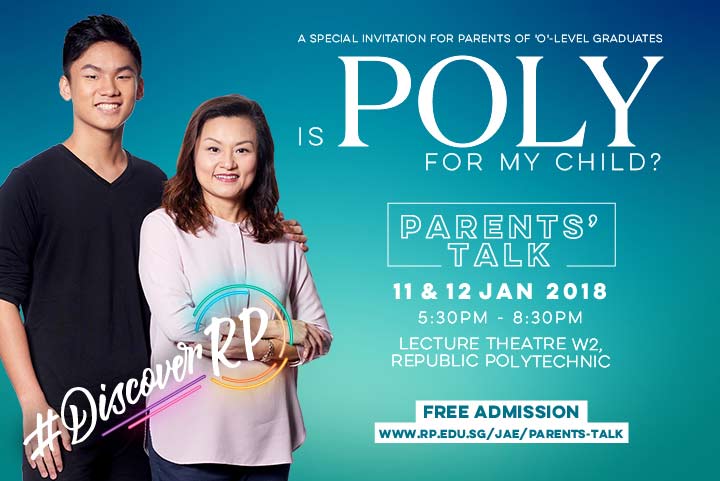 A SPECIAL INVITATION FOR PARENTS' OF 'O'-LEVEL STUDENTS
Join us for Republic Polytechnic's Parents' Talk to better understand the post-secondary options for your child!
You will also gain useful information and valuable tips on applying to a polytechnic through the Joint Admissions Exercise. Still unsure of which poly course to pursue? Come down and speak to our counsellors to find out about RP's 42 full-time courses!
Programme
Helping My Child Choose The Right Course by RP Career Counsellor (Details below)
Registration and Refreshments
Useful Tips and Admissions Info by the Registrar
Sharing by students, alumni and parents
Course Counselling
Talk by RP Career Counsellor
Every parent wants their children to be successful in life. As the central figure in your children's education and career development, your involvement is a huge factor in their success. You can start by guiding them make informed choices in their education journey enabling them to realise their dreams and career aspirations. In order to do this, you need to know your children's interests, strengths and what they are passionate about. Through this talk, our ECG Counsellor will share with you important factors to be considered in guiding your children make informed education and career choices. We look forward to seeing you at the talk.
The following ECG counsellor will be the speaker on the respective dates:
Thursday, 11 Jan 2018 – Gena Toh
Friday, 12 Jan 2018 – Chan Chee Hoe
Find Tuition/Enrichment Centres