Super S.U.R.E. Show (Parenting Special)
to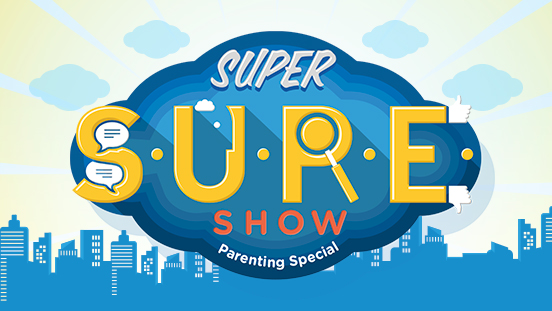 Saturday, 21 November 2015
3pm – 4pm
Level 1, The Plaza, National Library Building
100 Victoria Street, Singapore 188064
Want to know how media and technology can influence the way you raise your children today?
Then join us at our third Super S.U.R.E. Show, a parenting special where Diana Ser, Evelyn Tan, Nicholas Aaron Khoo and Dr Jiow Hee share ways to be S.U.R.E. about the information that you and your kids come across daily. The event will be moderated by Chong Ee Jay.
Admission is FREE, so be sure to join us! Limited seats available, reserve yours on GoLibrary now!
Featured Speakers
————————-
Diana Ser – Host and Media Personality
Evelyn Tan – MediaCorp Artiste
Nicholas Aaron Khoo – Chairperson of Singapore's Cybersports & Online Gaming Association
Dr Jiow Hee Jhee – Lecturer, Singapore Institute of Technology
Chong Ee Jay – Manager of TOUCH Cyber Wellness
Find out more: http://www.nlb.gov.sg/sure/supershow3/
This programme is organised by S.U.R.E. (Source, Understand, Research and Evaluate), an initiative by the National Library Board.
Find Tuition/Enrichment Centres