Unravel the Secrets of Primary Math
to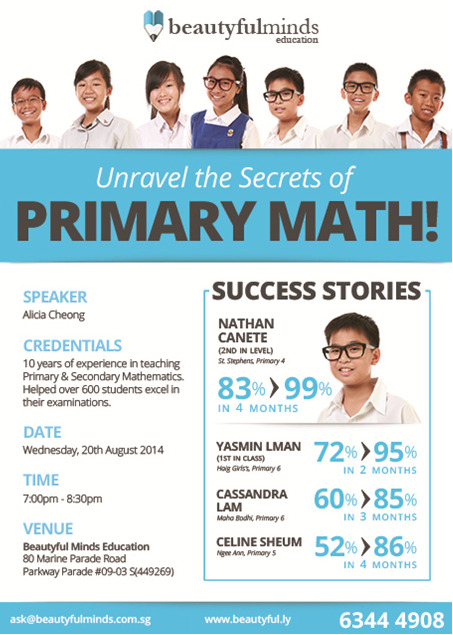 Back by popular demand, Beautyful Minds will be re-launching its series of Educational Seminars this year. First up would be Unravel the Secrets of Primary Math to be conducted by Geniebook's co-founder, Alicia Cheong.
Updated to match the changes made to the marking rubrics by MOE, this time the seminar will feature even more strategies on how to overcome common mistakes Primary School students make in their Mathematics examination papers.
Aside to that, the seminar will also cover tips on handling examination stress, and how parents can play a bigger part in their children's academics to help them achieve their greatest potential.
"There are many things we think we know but overlook. The problem sums that were demonstrated in the seminar really helped my son to save a lot of marks from careless mistakes.", said Mrs Tan, mother of Emersius Tan. Highly recommended by past attendees, this repeat seminar is a good opportunity for those who have yet to experience it. What's more, the entrance fee has been waived in light of the National Day celebrations!
So mark down 20th August on your calendar, and we'll see you at Parkway Parade #09-03!
There are 20 seats available for the public. Please call 6344 4908 to register.
Find Tuition/Enrichment Centres