World University Expo @ Suntec – Saturday, 6 July 2019
to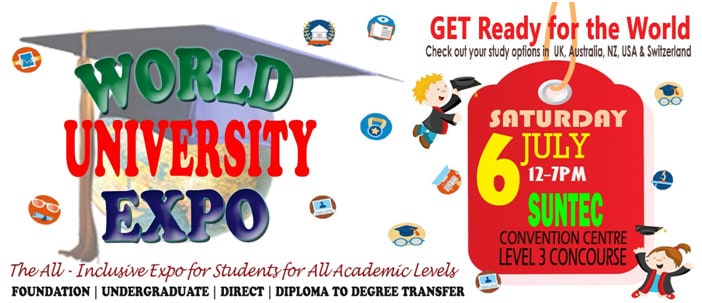 Why should you attend this event?
Confused on your next steps now that you are graduating soon? Afraid that spaces locally may be too competitive and you'd like to have more options? Or perhaps you are determined to get out there, especially with the wonderful experience studying abroad has to offer!
Regardless of your circumstance, coming for this Expo to get a personalised counselling session from one of our Senior Counsellors, all of whom have been in the industry for at least 3 years, will give you clarity in your education journey. On top of that, you get to speak individually to various renowned universities and institutions from UK, Australia& New Zealand!

Need more reasons to come for this event?

On-the-spot application – Got a better idea of where you should apply after speaking to us or already know where to apply? You can put in your applications during the Expo and we'll guide you through the process!

Certification of documents – No need to head to a notary public to get your documents certified. As official representatives of these institutions, we can certify your documents for you when you apply with us!

Waiver of application fees – You can apply to multiple universities and we waive off most of their application fees when you apply with us. Speak to us on which universities we can extend this to.

Start-to-end support for FREE! – We are also the official representative of many World Top 100universities in various destinations. Students do not have to fork out any cent to get detailed counselling and the use of our services, which includes all of the above and post-acceptance support.
Check out these featured Universities & Pathways who will be present to answer your queries: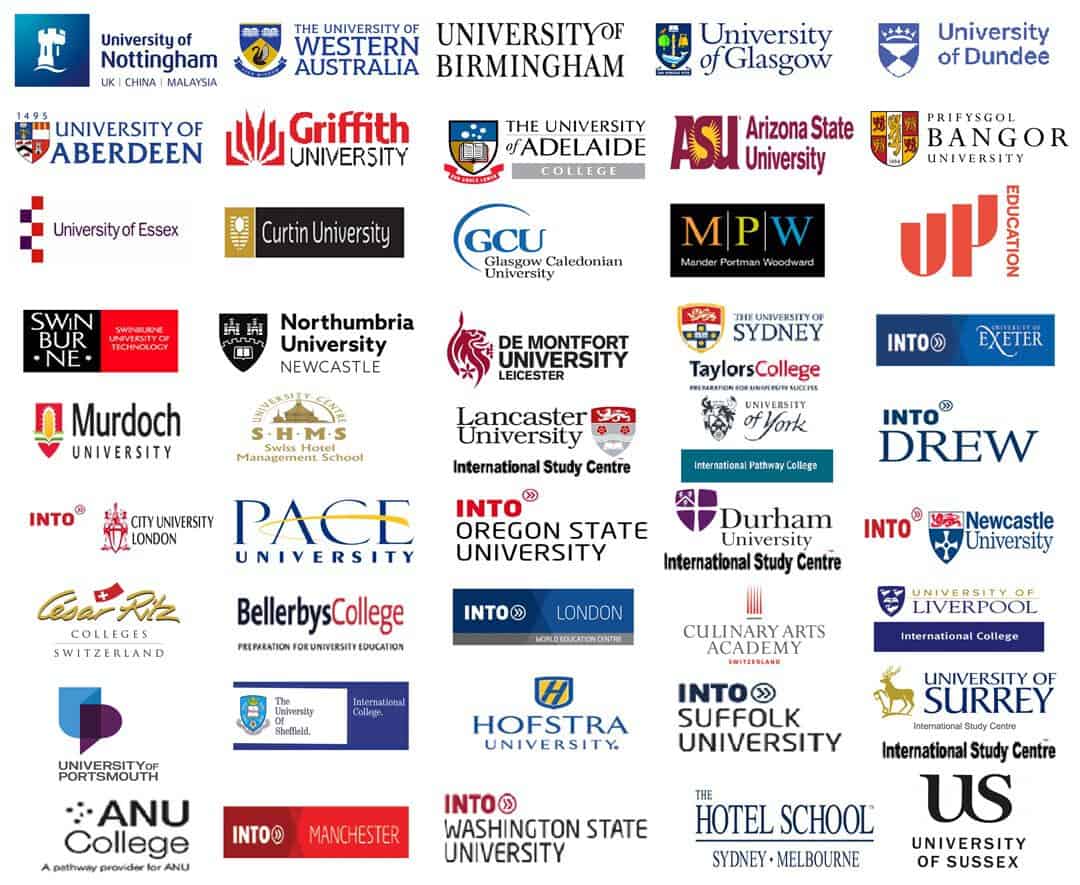 Don't see your institution up there? Don't fret, we can still provide you with detailed information of many World Top 100 universities and help you with the application process! With various institutions and pathways*,we can find the best-fit universities for you.
*What are pathways? If you do not meet the entry requirements to enter directly to a preferred university, you may still be eligible to complete your degree at no or minimal additional time through a pathway program, namely Foundation, Diploma/International Year One. Speak to us in this Expo to find out more!


Who should attend this event: 
– N and O levels students looking for options;
– A levels and IB student completing/completed their studies;
– Diploma students with 4 semesters/ completed their diploma;
– National Service men who will be operationally-ready
Please bring along the original or copy of: 
– Educational transcripts and graduation certificate (from N levels onwards)
– Passport
Want to save the hassle of bringing your full documents or cannot make it on the day? We've made it easy for you!
Put in your enquiry, drop your documents via this link and we will get in touch with you:

What is the difference between applying through us and on your own?

 



We are one of the most successful overseas student placement agencies guiding students in finding the best fitted universities for them in the UK, Australia, New Zealand and more for the past 17 years! Our services are free of charge as we represent majority of the universities in Australia/UK/NZ including the world's top 1%.
So why miss this opportunity?
For no fees at all, our services include:
– Identifying universities based on academic profile and preferred programs
– Applications to shortlisted universities
– Free certification of documents for applications
– Scholarship counselling
– Visa application advice and guidance
– Accommodation assistance

Suntec Singapore Convention & Exhibition Centre
1 Raffles Blvd, Singapore 039593
Find Tuition/Enrichment Centres