World University Expo @ Suntec
to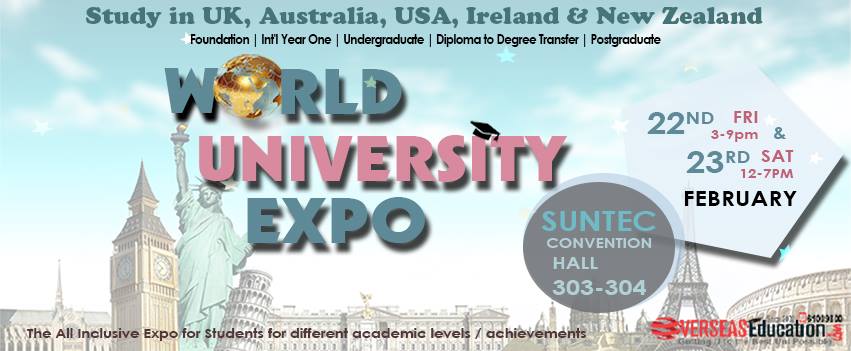 Meet World Top 100 Uni & Uni Pathways from UK, Australia, New Zealand & Ireland at
Suntec Level 3 Hall 303-4
The event is for:
(a) Students completing secondary education (IP, O , GCSE, ITE, N or Sec 4) or JC1 or A level / Diploma
Interested to find out more about Pathways (Foundation or Int'l Year 1) route to World Top 100 Unis Overseas. Choose from more than 60 UK/ Australia / NZ / USA Uni Fdn providers offering hundred of programs and find out the difference between Overseas Pathways from local A levels & Polytecnic Options to Universities abroad.
(b) Polytechnic or Private School Diploma holders
Find out your options after your 5 semseters results. Lodge in application & receive conditional offers from UK & Australia Unis. Get your credit exemptions evaluated in advanced. For NSman, secure advance offers for 2020 & beyond.
(c) For IB or A Levels Students
Get advice on Direct Entry to Unis or Pathways to Top Unis such as Int'l Year One. Get advice on professional degrees such as Architecture, Physiotherapy, Accountancy, Engineering, Health Science related degree and how you can benefit from a double major degree.
Bring along your education certificates & copy of passport for free application & consultation directly with Uni Staff & our senior counselors. Scholarships available.
Some of the Participating Unis for the 2 day events includes:-
Uni of Edinburgh (Friday Only)
Uni of Birmingham (World Top 100)
Uni of Glasgow (World Top 100)
Uni of Western Australia (World Top 100)
Queen Uni Belfast
Uni of South Australia
Murdoch University
University of Hull
UNSW Global (Friday only)
Uni College Dublin (Ireland)
Arizona State University
Central Queensland University
Uni of Newcastle
Uni of Liverpool
Bellerbys College
Central Queenland University
INTO Manchester / Exeter
Oxford Int'l College (Sat Only)
Uni of Adelaide College
Uni of Durham ISC
Uni of Tasmania
Griffith Uni
Deakin Uni
Swinburne University
University of Essex
Les Roches Global Hospitality Education (Sat only)
Glion Institute of Higher Education (Sat only)
Uni of Auckland Foundation Program
Uni of Nottingham Foundation
Uni College Birmingham
Le Cordon Bleu
Curtin and many more
*Some Institutions may be present for 1 or both days. Contact us for details
Specials features such as:
Foundation pathways for O /N/ A levels & IB
Special 5 month Foundation for UK
Int'l Year One
Diploma to Degree transfers (up to final year)
Direct University Admissions for High School and A Levels School Leavers
Postgraduate Studies and Pre-Masters pathways etc will also be available
Please bring your results along for free application on the spot
Suntec Singapore Convention & Exhibition Centre
1 Raffles Blvd, Singapore 039593
Find Tuition/Enrichment Centres