Year End Primary & Secondary Science Preparatory Courses For 2019 @ Kovan Learning Centre (MOE- Registered)
Year End Primary & Secondary Science Preparatory Courses For 2019 @ Kovan Learning Centre (MOE- Registered)
to
Recipient of Singapore's Outstanding Enterprise Award, Kovan Learning Centre carries with it 20 years of track record in coaching and transforming secondary students from average performers into outstanding Science achievers through research proven teaching strategies.
---
| | |
| --- | --- |
| Challenges Faced by Students | Strategies Employed @ Kovan Learning Centre  |
| Poor understanding of secondary science concepts | Reteach the fundamentals to unlearn and relearn abstract concepts   |
| Having slow learning pace | Accelerating  learning process  by gradually increasing the level of difficulty |
| Weak memory retention  of concepts | Visual illustrations and mind-mapping techniques to enhance memory retention  |
| Inadequate answering techniques  | Intensive practice with proven techniques to answer questions quickly and accurately |
| Unable to handle higher order application questions | Provide training using structured answering techniques |
Our Committed Science Teachers
Secondary Science classes will be conducted by Mr. Alan Goh, Teaching Scholar, NIE-trained PGDE (SEC) with extensive experience coaching under achieving students, reinvigorating them to boost their academic grades and raise their self-esteem.
Primary Science classes will be conducted by  Mr. Alan & Ms. Sajini Vijayakumar.
Mr. Alan, the Founder and Chief Trainer of Kovan Learning Centre (established since 1997), is an award-wwinning education entrepreneur with more than 20 years of pedagogical experience in mathematics and science subjects. Mr Alan, an NIE-trained educator with several years of teaching experience, heads the research and curriculum arm of Kovan LC. Under his supervision, Kovan LC's research team has developed technology based teaching resources to boost students' academic performance.  
Ms. Sajini Vijayakumar is a Clinical Research Coordinator at NUS-School of Medicine, with 8 years of teaching experience. She is passionate and optimistic in bringing out the best in students and motivating them to achieve their goals. 

Receive a 

20

%

 early bird discount when you register before 3rd October 2018

Lower Primary $325 (before discount) for 8 lessons, duration 12 hours
Upper Primary $375 (before discount) for 8 lessons, duration 12 hours
Lower Secondary $425 (before discount) for 8 lessons, duration 12 hours
Upper Secondary $475 (before discount) for 8 lessons, duration 12 hours  


Preparatory Programme Schedule: 15 October, 2018 to 17 December, 2018
Subjects: Science (Primary) / Chemistry, Physics and Biology (Secondary)
Class Duration: 1.5 hours per session

Venue: Kovan Learning Centre
22, Yio Chu Kang Road
Highland Centre, #02-07
Singapore 545535
Mobile: Ms Rene @ 9006 3155 (Call/Whatsapp)
Our Location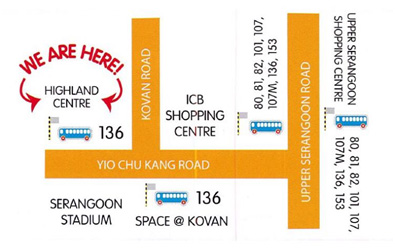 Find Tuition/Enrichment Centres