OrangeBelt

Posts: 52
Joined: Sun Jan 09,
My K1 son is into board games lately.

Any suggestions?
---
Snakes and Ladders?

There's also Junior Monopoly.
---
Queen or Maid wrote:My K1 son is into board games lately.

Any suggestions?
what board games is he playing now?
i played scrabble (own rules - and i also helped him to form words, can exchange letters he wanted etc etc - our objective was to used up all the tiles) and Uno (his hands were small, so we put out all our cards on hand on the table to be fair) with my then K1.
then in k2, we moved on to Uno attack, Uno Stacko, monopoly deal. then his dad taught him chess. we also played snakes and ladder and Otello and occasional bingo (this one very time consuming and hardly andy tactics needed, so i prefer not to play this if i could...but he likes to handle the bingo machine).
are the above considered as board games?
---
---
---
---
YellowBelt

Posts: 12
Joined: Fri Dec 06,
Nice game and these link are really benefcial.
---
YellowBelt

Posts: 22
Joined: Mon Dec 02,
Big Top - this game helps critical thinking and recognition skills that will help with letter recognition and reading, later on.
---
Hello There,
Thanks for suggest two games snakes and ladders also play junior & new games option I suggest for everyone Board game, Card Games, Trading Card Games, Dice Games and Puzzles in Australasia. I sure these games option all people and junior like it.
Buy Puzzles Online
Last edited by
deniallee
on Fri Nov 15, 2019 12:45 pm, edited 1 time in total.
---
---
My kids enjoyed playing Blockus. It's an abstract strategy board game for two to four players, an out-and-out war to get your pieces laid on the board before you get blocked or run out of space.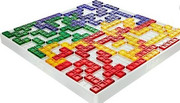 ---
Login