I prefer to use google maps at Seoul as it has real time updates so I can constantly check if I am going in the correction direction.
As for myeongdong, I usually use CGV as my guide on how to move around as CGV is the few shops that are in English on the map.
CGV/Uniqlo is the middle lane and the only place I understand on the map. I use it the center of my navigation. Using starbucks is not good as there is more than one
If you are going Myeongdong, exit 7 is the one with the escalator, but you have to walk through a row of shops.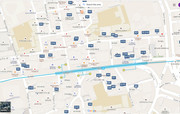 I wrote a post for it.
https://mizztoee.blogspot.com/2019/11/h ... using.html