OrangeBelt

Posts: 33
Joined: Mon Feb 07,
Love oranges and blue berries. Full of goodness to nourish our bodies.
---
Watermelon! Summer is incomplete without this red, sweet and juicy fruit.
---
I am waiting for durian season to be back!
---
I haven't tried durian yet but would like to try it when the season comes. Many says it's one of the best fruits!
---
You are not local? There are still durian now but the taste is not fantastic.
---
---
I make sure to eat at least 1 fruit a day to balance my diet. I sometimes eat fruits for breakfast. Eating fruit for breakfast will not only make you think clearer, it will help you lose weight and stimulate the digestive tract to energize the body.
---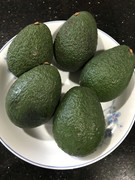 Bought 5 avocados from NTUC last week on promotion. Very cheap, $4.95 for 5!
BUT, after a week, they are still bright green in colour and hard as rock! Can't be eaten, has to throw them all away.
NTUC fruits on promo not such a good deal after all
---
Hass avocados have bumpy, bright green skin when not fully ripe. It progresses to dark green or brown when ripe. If the skin looks nearly black and the fruit feels mushy upon touch, it's overripe and likely spoiled. Better to just get the fresh ones than get the promotion but can't be eaten.
---
Durian season is back! Any good durian near hougang? I used to buy from ah seng durian at ghim moh, but too far for me now
---
We got good quality and fresh durian from Ah Teck Durian. The sellers are also pleasant to deal with.
---
Login