Photo of students chummy with foreign workers stirs debate
by Zayne Heng
inSing.com - 1 day 18 hrs 2 mins ago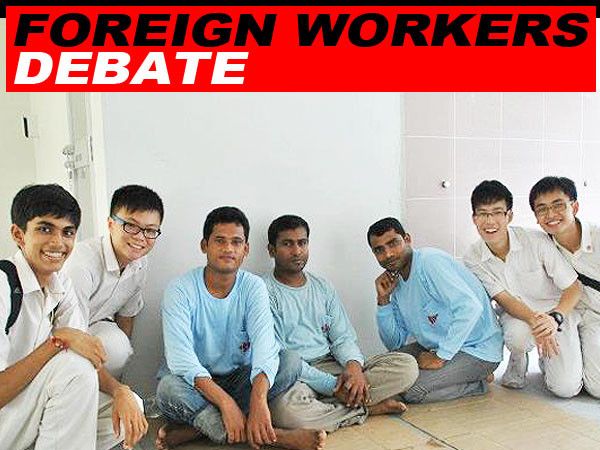 It is a seemingly innocent photograph.
A group of junior college students in school uniform poses with foreign workers at a HDB void deck. All of them are grinning.
That photo is now making the rounds on Facebook and has gotten netizens talking.
The photograph was posted by Darren Chan, believed to be a second-year integrated programme student at Victoria Junior College.
In a note with the photograph, Darren said the photo was taken as part of his school's "Service Learning Project".
He and four other school mates were wandering around a HDB estate looking for inspiration for project when they came across a group of three Bangladeshi workers taking a nap at a void deck during their lunch break.
The boys decided to interview the foreigners.
Through a chat with them, Darren and his friends learnt about the plight of foreign workers from the point of view of the workers and he was moved by what he heard.
By sharing the picture, Darren said he aimed to "raise awareness about the discrimination of the foreign workers here in Singapore, and hopefully to try to improve the situation by encouraging others to be more accepting towards them".
His photo and words prompted many netizens to take to their keyboards to air their views. Many lauded the boy's effort while others felt he was too naïve and that there were Singaporeans in similar plights.
By late afternoon on 13 April, the photograph had been shared 1,400 times and garnered 43 'Likes'.
Student Jeremy Ong echoed Darren's call to "appreciate" foreign workers because many of them built Singapore's infrastructure.
"Without them, we won't even be living in houses, shopping in malls, walking on pavements and driving on roads," said Jeremy, a design student. "They are the true blue foreign talents of this nation."
Another netizen, M Suhaimi Ismail, recounted a foreign worker's decision to work in Singapore in order to support his wife's medical study fees.
"That's a sacrifice. How many of us willing to do so?" he asked.
Minister of State for Manpower and National Development Tan Chuan Jin also lent his support.
He tweeted the word "Respect" and shared the photo on his Facebook wall.
While many agreed with Darren and acknowledged the contributions of foreign workers, some were sceptical and criticised Darren and his friends for their naivety.
"These kids haven't start (sic) work so they don't know what's going on in the outside world," said Kai Ali.
Another netizen Alex Tan said there were also Singaporeans in bad situations, not just foreign workers.
"What if they took a picture with a super hungry and bankrupt Singaporean?" he asked. "I see many Singaporeans more poorly dressed and thinner all around."
Some were outright sarcastic.
"Good job boys. Now go exchange places with them for one day and tell us what you think," said Matno Rohdiansteien.
Other observers, however, said the animosity should not be directed at blue-collar foreign workers.
Rather, the issue is the influx of "foreign talents" taking up white-collar jobs. Some say the problem lies with policymakers and their inability to deal with the rapid influx of foreign talent.
"(The issue) is the massive importation of PMET (professional, manager, executive, technician) level foreigners that depress wages that Singaporeans actually want to do, even while living costs rise relentlessly," said netizen Tat Tong.
Darren did not reply to a request on Facebook for his comment.
http://news.insing.com/tabloid/photo-of ... d-4f413f00