Happened to see this ultrasonic dishwasher. Seems powerful and no need much kitchen space.
https://sonicpro.sg/deals/groupbuy-for- ... end-march/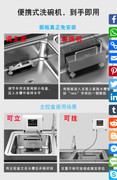 ---
KiasuNewbie

Posts: 4
Joined: Tue Jan 14,
"I've bought such a model literally a week ago. It's a new model and it's very hard to find it, but I did. Im totally satisfied with it, it's design fits perfect to my kitchen and don't take a lot of space. Does anybody else has it?
Maybe it's too new and because of it it's very hard to find it in USA or UK. The store where I found it has really a huge range of products and designs so, it was hard to choose:)
I'll leave a link, maybe somebody will need it
ianboer.com.au
"
---
Login