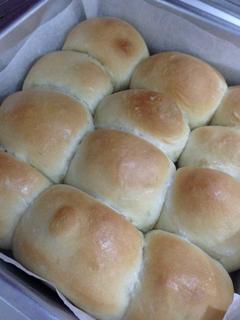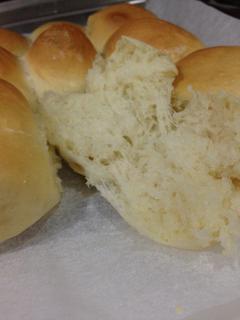 cant find the original web link where I used its recipe.
---
[/youtube]
I found the web link
I bought a milk bun from Swee Heng last Friday for breakfast the next day.
It has an unpleasant aftertaste.
Home bread making should yield better taste since one can decide what types of ingredients to use and what not to use and to go as natural as possible.
This kafemaru milk bun recipe still tastes alright this morning.
I was not able to knead until non-sticky like the condition shown in the video.
The texture was not as good as the one shown in the kafemaru video.
Well, that will be my ultimate goal to achieve
Since I can hand knead relatively acceptable bread buns now
(hope can replicate the results in my next bake), I will be putting up the Kenwood Major mixer for sale. It has become a white elephant on the countertop.
I am more keen to get a toaster or to have a bigger work surface for kneading/shaping bread dough.
Btw, I got a big chopping board from the household shop @ Beauty World to be used as a heavy worktop for bread making.
The IKEA silicone mat is unsuitable as the dough is sticky and the mat keeps getting pulled up when I knead.
However, the chopping board does not have a smooth non-stick surface.
Does a proper bread making worktop has a smooth non-stick surface?
The one shown in the kafemaru video looks to be a professional worktop.
Anyone seen such a worktop in Singapore shops or know which online store I can look for?
Btw, the kafemaru milk bun video uses strawberry jam bits.
I was at Orchard Isetan Supermarket last Sat.
While browsing, I chanced upon these strawberry jam bits, sold for $1.50 a small pack at the baking ingredients aisle.
I was so delighted, can be found in Singapore and is not expensive.
Looking forward to using them in the next batch of milk buns
Lastly, I encourage you gals to give this kafemaru milk bun a try.
The portion of 250g bread flour yields 12 milk buns in my case (size similar to Four Leaves mini buns).
Can omit the strawberry jam bits or to replace with other dried fruits (I used golden raisins yesterday).
I find the kafemaru milk bun recipe does not result in sweet tasting buns.
In fact, I could not detect any sweetness in it. Maybe I have a high threshold for sweetness
Elder boy said it is alright, since we can use the buns as plain buns and put on jam/butter spreads.
I see this recipe as a versatile one in which I can make it a bun for hamburgers or put in other fillings.
Btw, I did not use the bread flour from BakeKing or Prima.
I used an organic bread flour from Origins HealthFood, which is 12% protein, from NTUC Fairest @ Clementi Mall (I also found it at NTUC Fairest @ Bt Timah Plaza the next day).
Many bread making sites mention the use of 12% protein bread flour.
It was sold at $4+ for a pack of 1 kg, which I feel is not too expensive.
http://originsonline.com.sg/healthcare/ ... uct_id=254
Hope to see your milk buns soon.
Last edited by
Jennifer
on Mon Jul 30, 2018 7:59 am, edited 5 times in total.
---
Jen, the breads look so professional and delicious! I am impressed!!
---
---
---
---
Looks yummy
---
Jen, not sure if my phone got problem..cant see the weblink. yeah, I would like to keep/try the recipe. My Bosch mixer going to retire anytime as I think I used it to knead quite 'dry and too much' dough when I was trying to make the vegetarian dish some time ago. motor probably overworked liao. was hesitate to buy a set that was on offer online as the accessories are just too many, no space. now, my machine can work lightly only. I will use it till I get active/has more interest in baking before get another one.
you like to hand knead now? my wrists quite weak type. usually I will just wipe clean my counter top and do the kneading there with the plastic scrapper to help pull up all the sticky dough during kneading process. I have the plastic mat but use that when I need to do cutting with knife like when make cinnamon bun so that wont damage the counter top.
I must say, the outcome of your baking is good lei
---
Jennifer,
Your kafemaru milk bun looks lovely! You've inspired me. Will try it after I completed baking DS' 25 bread dough that he did for Sc project.
---
MrsKS,
you can go direct to youtube n search for kafemaru, should be directed to all the videos by kafemaru.
---
Estéema wrote:Jennifer,

Your kafemaru milk bun looks lovely! You've inspired me. Will try it after I completed baking DS' 25 bread dough that he did for Sc project.
25 bread dough???
please update which combi of bread dough produces the best taste, best texture n best kept bread
the kafemaru videos make bread making looks very easy n do-able
---
Login