KiasuNewbie

Posts: 3
Joined: Thu Aug 22,
hi hi, anybody has experience with silicone food bag?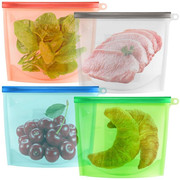 At times, i feel that containers abit bulky on the bag.
---
I looked at food bags, but decided that I prefer a box-like structure instead - wider base and opening, and can be stacked. I've just ordered a couple of silicone lunch boxes which can be collapsed to 1/3 the open height when not in use. That should reduce the bulk problem. I also ordered silicone food covers and beeswax-coated cloth wraps. They haven't arrived yet, but I'll update here after I've tried them out for a while.
---
GreenBelt

Posts: 134
Joined: Wed Mar 07,
Total Likes:4
Silicone bags are great! It's non-toxic, safe for food, resists microbes, is easy to clean and stands up to hot and cold temperatures. They are not cheap, but if you take care of these bags they will last a very long time.
---
Short update on the beeswax wraps - not very good in tropical climates! At our non-aircon room temperature, they are sticky and tend to stick together. In the fridge, they get very stiff. I have to place paper between them so they won't stick, then keep them in the fridge. They do work for wrapping items like half an onion, etc, but I don't think I'm going to invest in more.

The silicone food cover (only used once so far) worked fine for covering a bowl.

Silicone lunch box works fine - folds down nicely so it doesn't take so much space to carry around.
---
Login