GCE O-Level Mathematics Mon, 02/05/2022 5:39pm

STUCK ON HOMEWORK?
ASK FOR HELP FROM OUR KIASUPARENTS.COM COMMUNITY!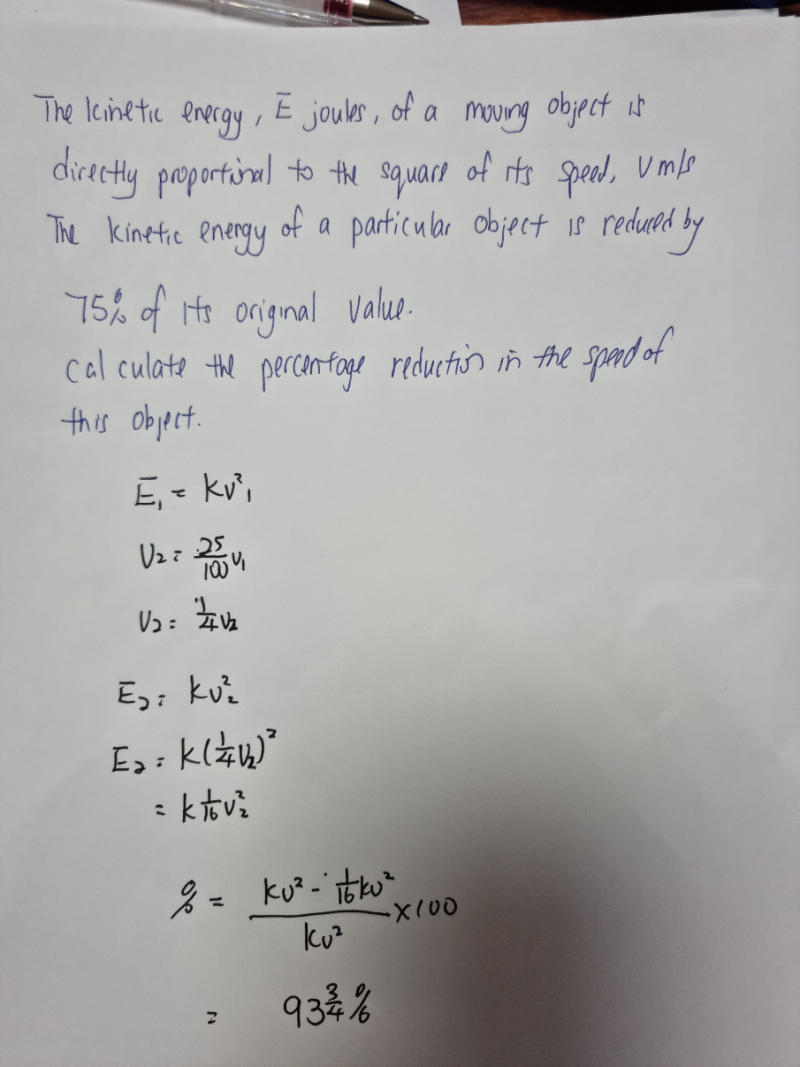 Is my steps correct.pls help .thank you.
sushi88
It is incorrect because the question says the KE is reduced by 75% but your working shows that you have reduced  speed by 75% .   The reduction % in speed is what you need to find.  Instead your end result is finding the % decrease in the KE.   
Information from first line gives you:
KE = (1/2) mv2     (formula for kinetic energy and it shows the direct proportion relationship, ie,
                                    when speed v increases, v2  increases, KE increases, when v decreases, v2
                                     decreases, KE decreases.)
So second line says KE decreases by 75% of its original value,
This means new KE = 0.25 (1/2) mv2.   ( (1/2)m is a constant, so you do not have to bother about it)
=> New KE = (0.5v)2 (1/2)m
=> New speed has decreased from v to 0.5v
So  %  of reduction in v is  [(v-0.5v) / v] x 100% = 50%      
The first attempt in the earlier solution, I made a mistake of skipping a step…so I took the reduction in v2  instead of v = speed.
Find Tuition/Enrichment Centres