P5 Mathematics Wed, 15/06/2022 12:04pm

STUCK ON HOMEWORK?
ASK FOR HELP FROM OUR KIASUPARENTS.COM COMMUNITY!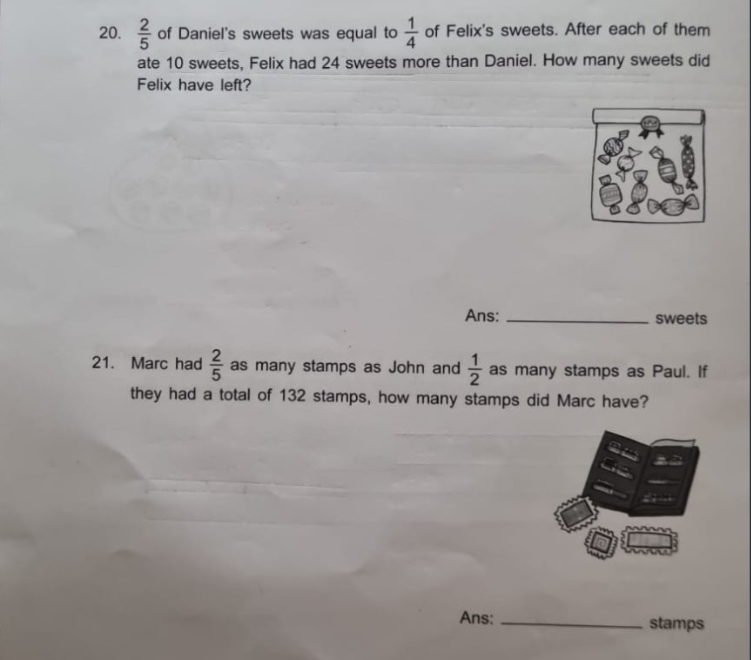 Hi good morning, can anyone help with this 2 Qs? Thanks in advance.
sushi88
Question 20
Daniel  [u][u][u][u][u]<—3u—>        <———  2/5 is equal to 1/4 of Felix
Felix     [u][u][u][u][u][u][u][u]
Since both ate 10 sweets, their difference 3u is a constant.
So 3u = 24 => u=8
Felix has 8u=64 sweets at first,
So after eating 10 sweets, Felix has 64-10= 54 sweets left
Question 21
Marc    [u][u]   <—————————- 2/5 as many as John and 1/2  as many as Paul
John    [u][u][u][u][u]
Paul     [u][u][u][u]
Total = 11u = 132 => u =12
Hence Marc has 2u=24 stamps
Find Tuition/Enrichment Centres