P6 Mathematics Fri, 17/06/2022 3:44pm

STUCK ON HOMEWORK?
ASK FOR HELP FROM OUR KIASUPARENTS.COM COMMUNITY!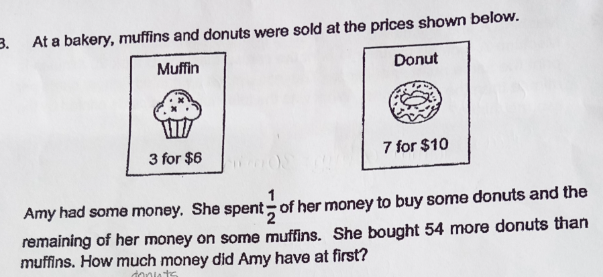 Thank you!
sushi88
This question is easier to use algebra to find the factors for each type with a difference of 54.
Let d be the factor for donuts and m be the factor for muffins.
7d – 3m = 54    (donuts bought was 54 more than muffins)
6m = 10d          (same amount was spent on both since she spent 1/2 her money on donuts => 
                               half was on muffins)
m = (10/6)d = (5/3)d
7d – 3(5/3)d = 54
2d=54 => d = 27
m = (5/3) x 27 = 5 x 9 = 45
Hence total amount of money Amy has at first is 6m +10d = 270 + 270 = $540
Find Tuition/Enrichment Centres