S3 Additional Mathematics Mon, 22/08/2022 10:18am

STUCK ON HOMEWORK?
ASK FOR HELP FROM OUR KIASUPARENTS.COM COMMUNITY!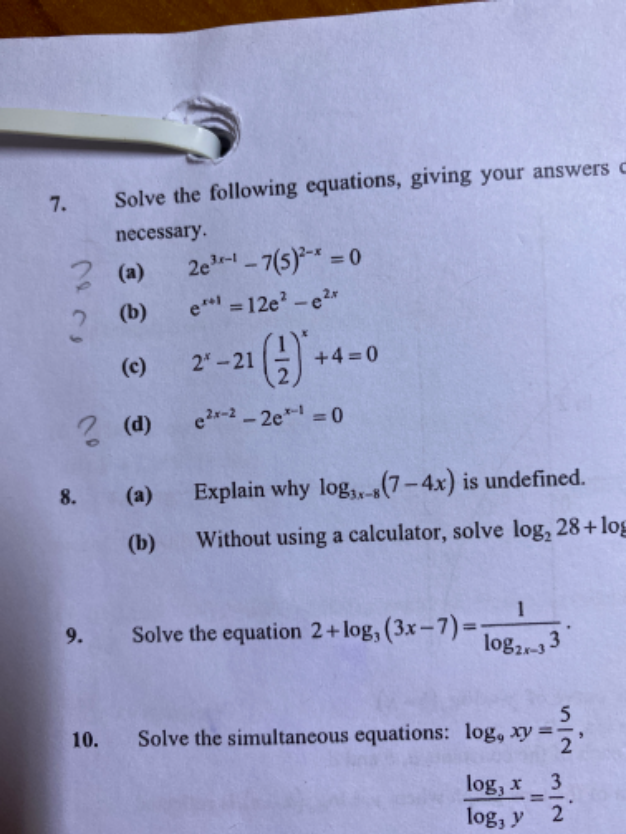 Kindly solve a b and d thanks 
sushi88
(a) is the same as Adwin's solution
(b) and (d) , I have alternative approach but answers are the same.
Alternative solution for (b), I used completing the square method.
ex+1  = 12e2  – e2x
ex . e  = 12e2  – (ex )2
let A = ex
A. e = 12e2  – A2
A2 +  A. e   =  12e2
[A2 +  A. e  +  (e/2)2 ] –  (e/2)2  =  12e2
[ A – (e/2) ]2  = 12e2 +  (e/2)2 
[ A – (e/2) ]2  = (48/4)e2 + e2 /4 = (49/4) e2
A – (e/2)  =  ± √  [(49/4) e2 ] = ± (7/2)e
A = (7/2)e –  (e/2)  = 3e       or    A  =  – (7/2)e –  (e/2) = -4e
A = ex   cannot be negative so A = -4e   is extraneous
Hence   ex  = 3e  => ln ex = ln 3  =>  x ~ 2.10  (to 3 s.f)
Alternative solution for (c)
e2x-2 – 2ex-1  = 0
let A = ex-1
A2 -2A = 0
A(A-2) = 0  => A = 0 or A = 2  but A= 0 is extraneous
Hence  ex-1  = 2  
 ln ex-1  = ln 2
x – 1 = ln 2
x = ln 2 + 1    ~ 1.69 ( to 3 s.f)
Find Tuition/Enrichment Centres