P6 Mathematics Sun, 11/09/2022 4:56pm

STUCK ON HOMEWORK?
ASK FOR HELP FROM OUR KIASUPARENTS.COM COMMUNITY!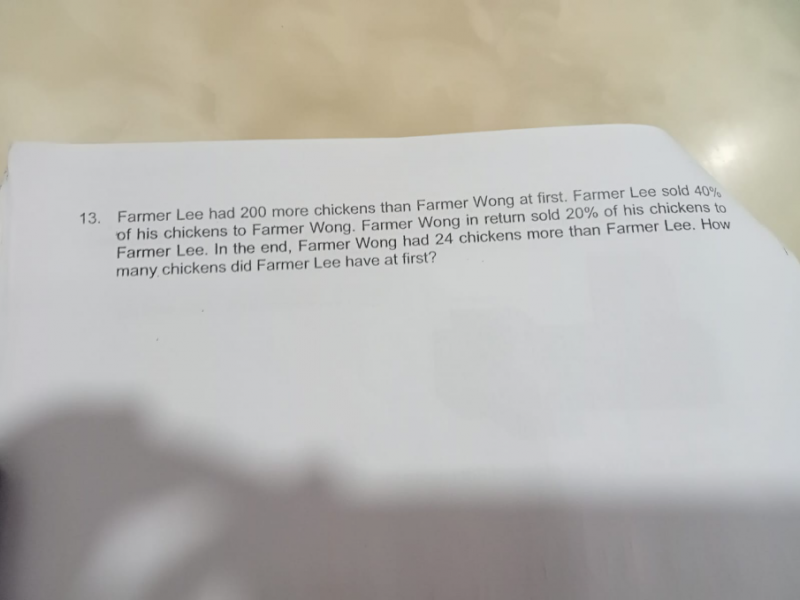 Thank you
sushi88
                                                Lee                             Wong
At first                                   u+200                              u
Lee sold Wong              -0.4(u+200)               +0.4(u+200)    (when Lee sold 40% of his chix to Wong)
                                      —————–             ——————-
Updated chix                     0.6u+120                     1.4u+80
Wong sold Lee              +0.2(1.4u+80)           -0.2(1.4u+80)   (When Wong sold 20% of his chix to Lee)
                                     ——————-          ——————–
In the end                     0.88u + 136                  1.12u + 64
Wong has 24 more chickens than Lee, so to make them equal, add 24 to Lee's numbers
1.12u + 64 = 0.88u + 136 + 24
0.24u = 96
u = 400
Hence at first Lee has 400+200 = 600 chickens.
sushi88
Hi, I got someone else to try this question in alternative way and she is very quick in mental calculation in fractions but it turns out the fractions presentation is even more complicated albeit the end answer is also 130.   This method will give a solution in shortest possible time.
Actually presenting % in decimals is easier and since calculator is allowed.  maybe I annotate the solution to make it clearer but in exams, those annotations are not necessary.
Find Tuition/Enrichment Centres