P6 Mathematics Tue, 13/09/2022 4:57pm

STUCK ON HOMEWORK?
ASK FOR HELP FROM OUR KIASUPARENTS.COM COMMUNITY!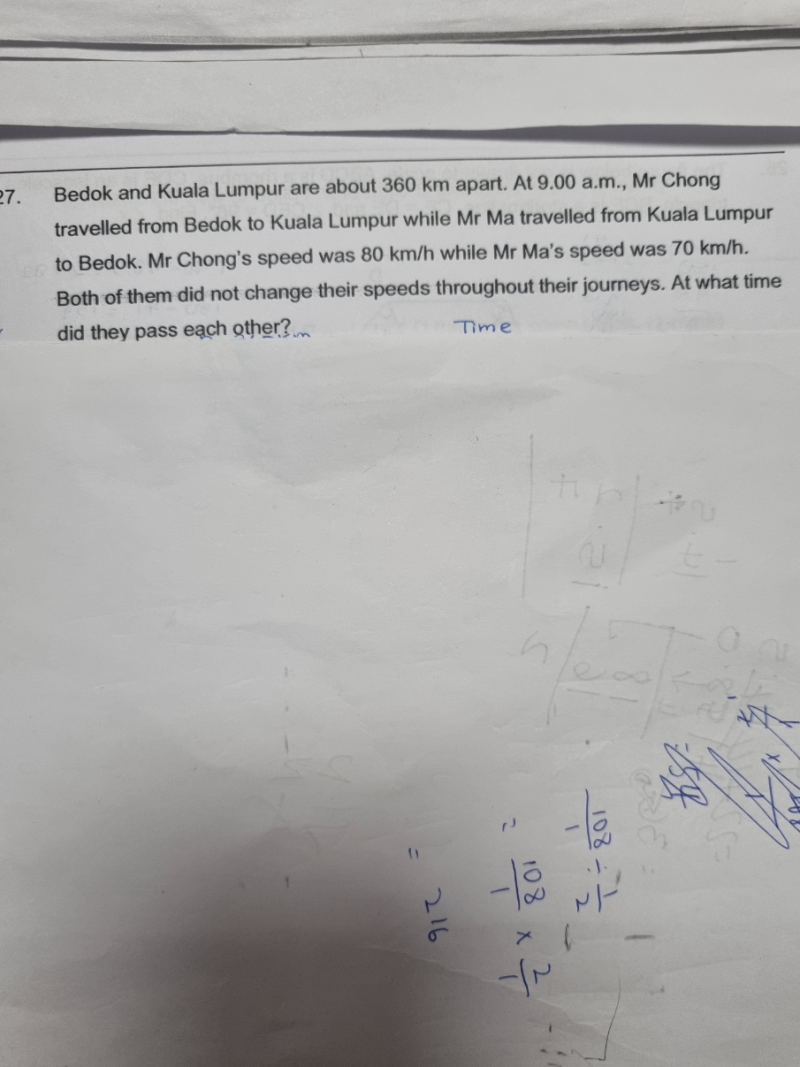 Thank you 
sushi88
   Mr Chong  ——> 80km/h
      Bedok                                                                                                           KL
          |<———————–360-u——————————->|<————–u————–>|
        9am                                                                       Meeting pt                 9am
                                                                                         70km/h <————Mr Ma
Let the distance travelled by Mr Ma be u
Then distance travelled by Mr Chong  = 360-u    (the point they met and passed ea is the pink line)
Time taken to reach that point was the same for both of them,
(360-u)/80 = u/70
80u = 25200 – 70u
150u = 25200
u = 168              360-168 = 192
Time taken to reach meeting/crossover point = 168/70       or    192/80
                                                                                    = 2.4 h = 2 hours 24 mins
        |——1h——-|——1h-——|–24m–|
     9am            10am           11am      11:24am
Hence the time they met and passed each other was  11:24am 
PS:  Did you understand the solution for the last 3 questions you posted yesterday in 2 posts?
Prettyhomework
Thank you very much. Yes,I am trying to redo again to remember the steps.but sometimes I may get confuse again.thank you very much for your help.
sushi88
It is great that you try to understand and practise again.   
Always remember when tired, please take a break.   You can only do Math when the mind has had a good rest.   So just before the exams, sleep well.
Find Tuition/Enrichment Centres