P5 Mathematics Wed, 25/01/2023 9:10pm

STUCK ON HOMEWORK?
ASK FOR HELP FROM OUR KIASUPARENTS.COM COMMUNITY!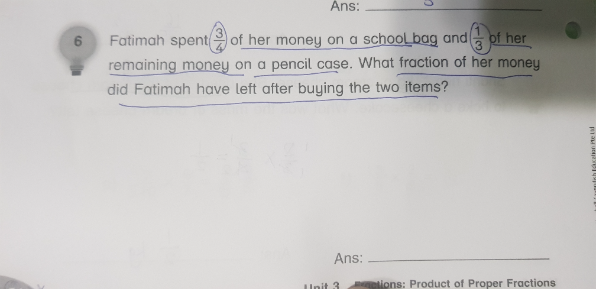 mr.tan
Method 1:
Let M be money at the start.
Spent 3/4 M on school bag, so remaining is 1/4 M.
Spent 1/3 of 1/4 M on pencil case, so left 2/3 x 1/4 M = 1/6 M.
So she has 1/6 of money left.

Method 2:
Let 12u be money at the start. (denominators 3 and 4 suggests 3x4=12 units)
School bag is 3/4 x 12u = 9u. So left 3u.
Pencil case is 1/3 x 3u = u. So left 2u.
Amount left is 2u/12u = 1/6 of money at the start.



sushi88
Let u be the total units of money.
  Spent  School bag         ( 3/4) u           
  Remaining $                   (1/4)u     
  Spent Pencil case          (1/3)(1/4)u = (1/12)u
Money left = u – (3/4)u – (1/12)u = (12/12) u -(9/12)u – (1/12) u = (2/12) u = (1/6)u
Hence fraction of money left = 1/6
Find Tuition/Enrichment Centres