P4 Mathematics Thu, 02/03/2023 1:20am

STUCK ON HOMEWORK?
ASK FOR HELP FROM OUR KIASUPARENTS.COM COMMUNITY!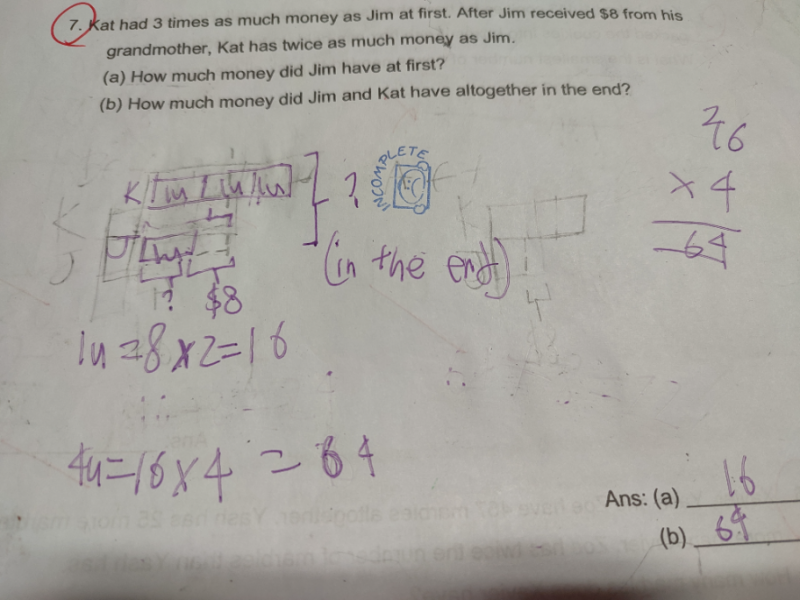 Hi Parents, p4 Maths can assist to check if working and answer is correct? Thanks!
mr.tan
Your drawing is correct. Part (a) is correct too.
But maybe you misread Part (b) and thought the question
is asking for how much money they both had at the start.
At the start, they both had 4 x 16 = $64.
At the end, they both had 4 x 16 + 8 = $72.
===
Here is another solution, where we use 2u for Jim's
starting amount. Then Kat will have 6u. It is clear
from the diagram below that u = $8.

Part (a): Jim had 2u = 2 x 8 = $16 at the start.
Part (b): Jim and Kat had 9u = 9 x 8 = $72 at the end.
MyStudyRoom
Hi kopicat, answer for Part(a) is right. For Part (b), just add $8 to $64 will do.
For an alternative way of doing this question, you can view the video solution here
Find Tuition/Enrichment Centres