PSLE Mathematics Sun, 18/09/2016 1:14pm

STUCK ON HOMEWORK?
ASK FOR HELP FROM OUR KIASUPARENTS.COM COMMUNITY!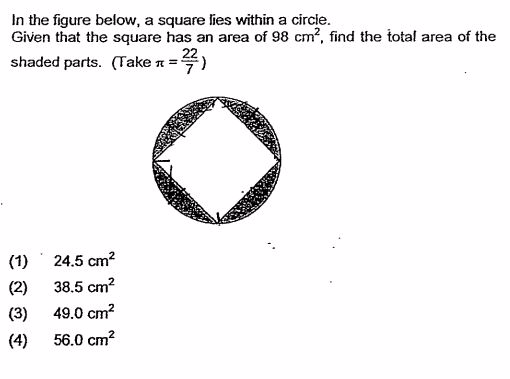 Can anyone help me with these question. Thank you.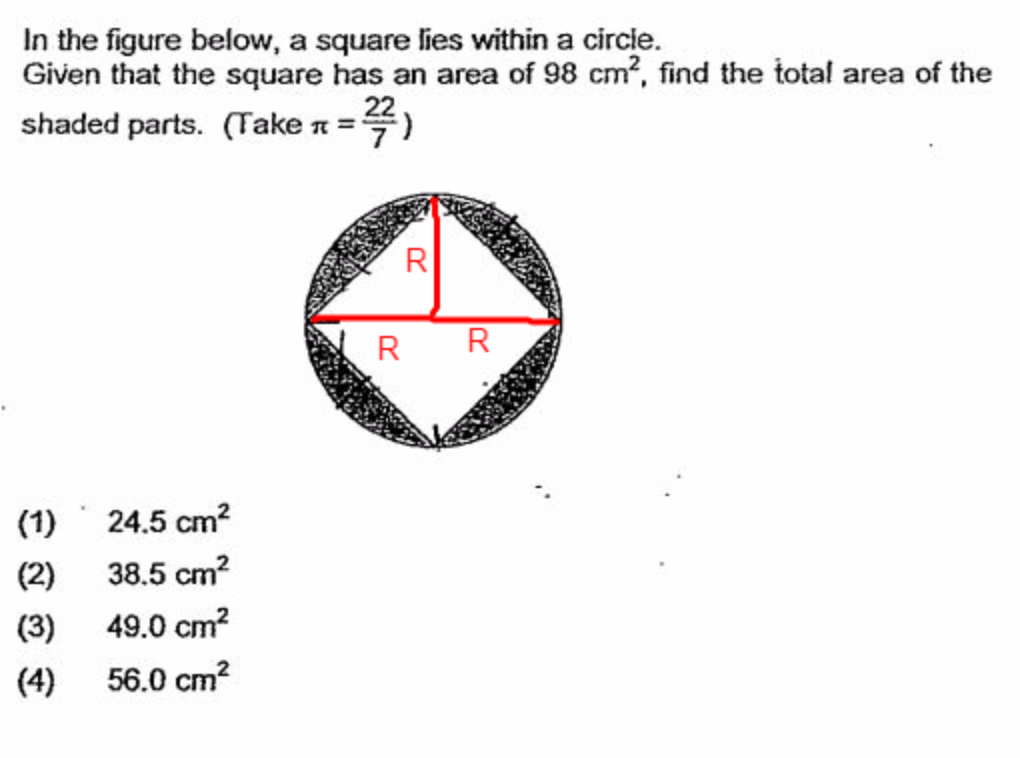 If you cut the square into half, it is made of 2 triangles with base =2R and height =R
R is the radius.
Area of one of the triangle = 98/2 = 49 cm2
1/2 (2R) .R = 49 cm2
R2 = 49
R =7 cm
Area of circle = 22/7 X 7 X7 = 154 cm2
Shaded parts = 154 -98 = 60   56cm2
Edit note: careless mistake with the calculator. Correction made. Answer is 56 cm2 and not 60.
ChiefKiasu
I really like your lateral thinking skills.  I would have tried to square root the square and get into all kinds of trouble!
Ender
Thanks, but this is actually how the P5 and P6 are taught. I learned this just two years ago when I began coaching my son for P5 til PSLE.. I have to in a way 'relearn' primary school math to be in line with MOE syllabus. His math teacher helps too, she pointed his mistakes out and I make sure his follows thru with her correction. In fact I started out posting some P5 questions here then, and learn from the experts here.
Else, I would like you solve it with brute force. Square root to get the sides of the square too..
ChiefKiasu
I'm just glad to get to learn from you and other contributors.  Actually P6 maths is pretty good at stopping me from getting senile.  Keeps our minds sharp!  🙂
Find Tuition/Enrichment Centres