P5 Mathematics Fri, 02/12/2016 4:21pm

STUCK ON HOMEWORK?
ASK FOR HELP FROM OUR KIASUPARENTS.COM COMMUNITY!

appreciate some help in the above question.
thanks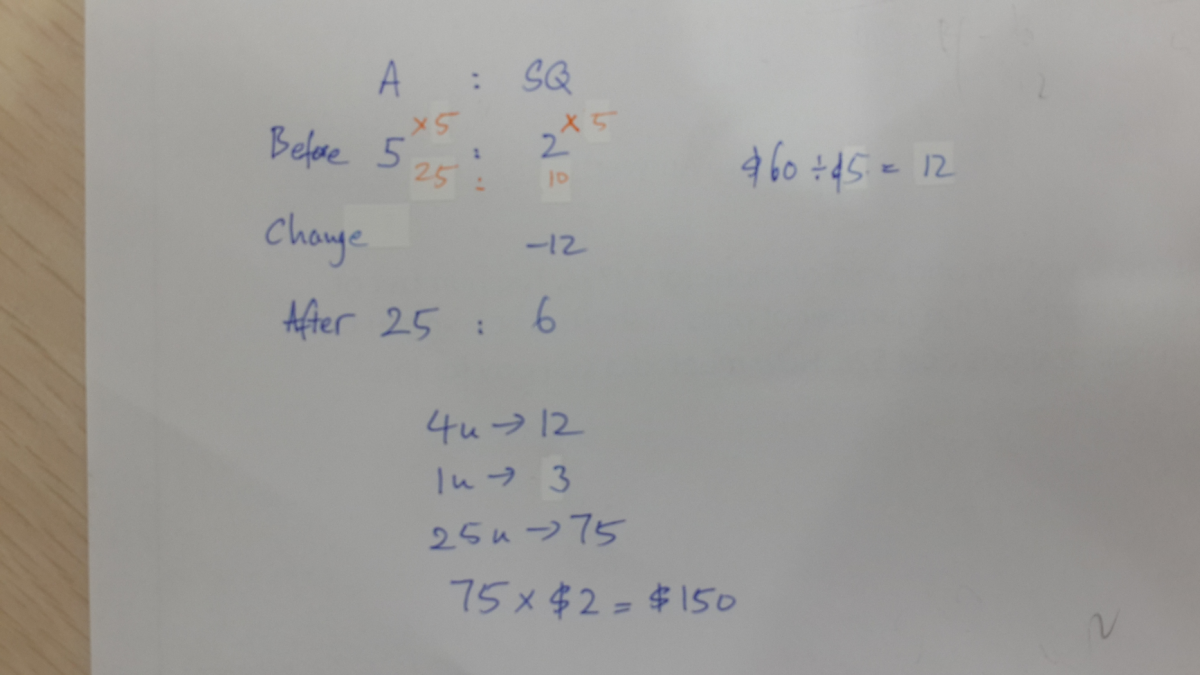 arosisi
The ratios are for the number of notes.
Hope it helps 🙂
ozora
Just to verify with you about the before ratio. Alynna has 5 units while siqi has 2 units though A:$2 and S: $5 ?
did u derive the 5 units for A and 2 units for S as they have the same value ? Therefore when the comparison amount will be reverse of each other?
arosisi
Sorry I didn't see your reply until just now.
And yes that's how I got the ratio 5 : 2 🙂
ClaytonDBragg
I am looking for the answer to it to complete my essay work. But I didn't find it anywhere. So I decided to take the best dissertation writing services help, I am looking for it. And gladly I found your post. Now I can complete my essay work on time.
alfretztay
I would solve the above question as follows :
Assuming that there are only $2 and $5 notes in Alynna's and Si Qi's wallets respectively,
60/5 = 12 (number of $5 notes Si Qi spent)
25u x 2 = 6u x 5 + (12 x 5)
20u ——- 60
1u ——- 60/20 = 3
25 x 3 x $2 = $150
Ans : 150.
StillThinking
Well, how do you know there are only those notes? In math, assuming will result in a fluke even if  the answer is correct(although there probably is an error in the question here so chances are that there won't be a right or wrong, unless the teacher doesn't realise.)
Find Tuition/Enrichment Centres