P6 Science Tue, 20/06/2017 4:48pm

STUCK ON HOMEWORK?
ASK FOR HELP FROM OUR KIASUPARENTS.COM COMMUNITY!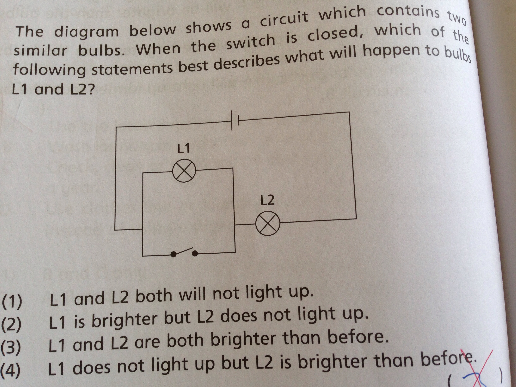 The answer given is option 4.  Why can't L1 light up when the switch is closed. 
Thanks in advance. 
SAHMom
When switch is open, it is a closed circuit with both bulbs in series.
(*VL1+VL2=Vbattery)
When switch is closed, there is a short circuit. Current will not flow through L1 (or bypass L1).
(*VL1=0, VL2=Vbattery ,  So L2 will be brighter)
*For interest only – not required at P6.
Optimist 2213
When the switch is closed, there's is something known as a short circuit where the current takes the path of the least resistance, which means that the electric current bypasses L1 completely by going on the other route (the route with the switch) L2 becomes brighter because the total resistance of the entire circuit decreases, so the current passing through L2 increases.
Find Tuition/Enrichment Centres