P6 Mathematics Sat, 29/07/2017 4:28pm

STUCK ON HOMEWORK?
ASK FOR HELP FROM OUR KIASUPARENTS.COM COMMUNITY!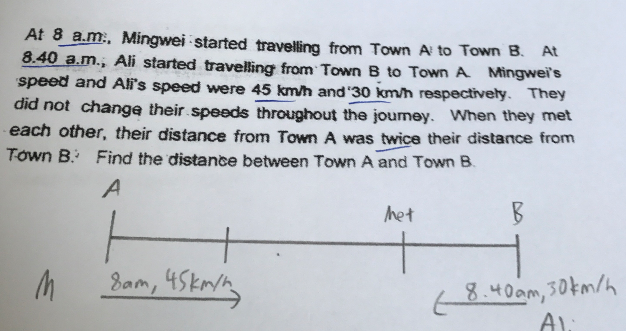 Pls assist. TIA!
alfretztay
Town A                             Town B
     l ——- 1 ——- 1——- 1 
 Mingwei                             Ali
 8am                                8.40am
 45km/h                           30km/h
8am to 8.40am ——- 40min
45 x (40/60) = 30km
30 + 45t = 30t x 2
t = 2
30 + 45t + 30t = 180
Ans : 180 km.
Note :
I believe that it is of paramount importance for students to truly understand the question first before they could solve it.
For students who do not understand the equation 30 + 45t = 30t x 2, I have use 'average speed (s) x time taken (t) = distance travelled (d)' to arrive at it. Tom who started travelling from Town A to Town B at 8 am had a 30 km head start as compared to John who started travelling from Town B to Town A only at 8.40 am plus Tom's speed of 45 km/h x time taken = John's speed of 30 km/h x 2. (When they met each other, their distance from Town A was twice their distance from Town B.)
DaddyD
Why is it necessary to multiply 30km/h by 2?
alfretztay
'When they met each other, their distance from Town A was twice their distance from Town B.'
Find Tuition/Enrichment Centres