P6 Mathematics Sat, 03/02/2018 9:50pm

STUCK ON HOMEWORK?
ASK FOR HELP FROM OUR KIASUPARENTS.COM COMMUNITY!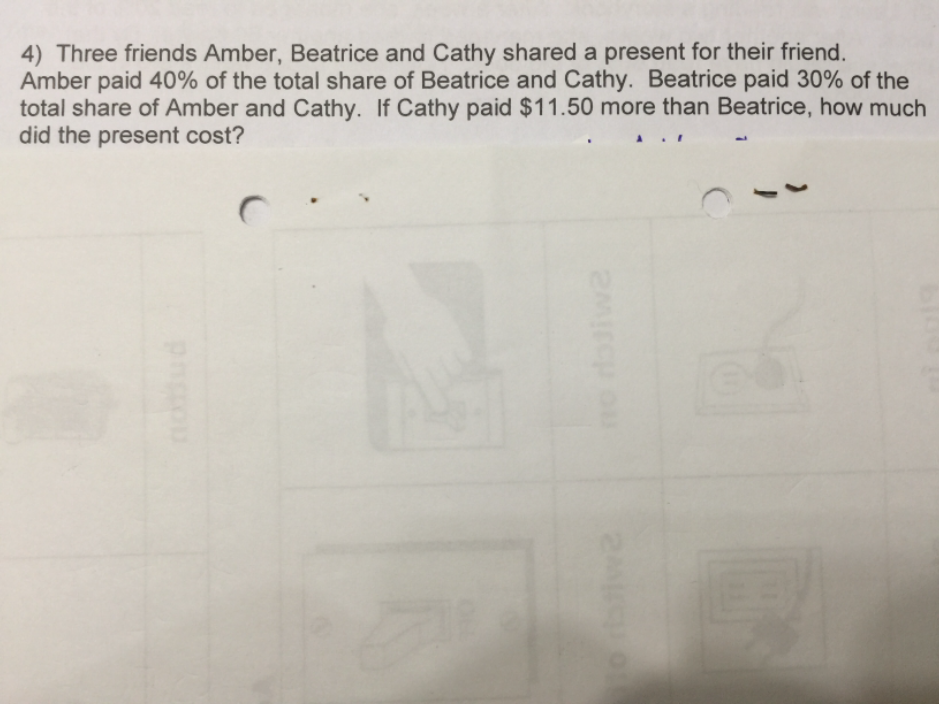 Hi everyone
Need help with these questions! Thank you!
Source: Assessment
UnappreciatedTeacher
Hope you find this helpful.
All the best!
Subscribe to my YouTube channel for more Questions & Answers.
Khong Pek Mao
This is a Common Ratio question.
| | | | | |
| --- | --- | --- | --- | --- |
|     | Amber   | Beatrice   | Cathy  | Total  |
| R1   | 4u |   |   | 14u   |
| R2 |   | 3u |   | 13u |
| R1 x 13 | 52u |   |   | 182u |
| R2 x 14 |   | 42u |   | 182u |
| CR | 52u | 42u | 88u | 182u |
88u – 42u = 11.50
46u = 11.50
1u = 11.50 / 46 = 0.25
182u = 0.25 x 182 = $45.50
Find Tuition/Enrichment Centres