S3 Physics Wed, 07/02/2018 10:51pm

STUCK ON HOMEWORK?
ASK FOR HELP FROM OUR KIASUPARENTS.COM COMMUNITY!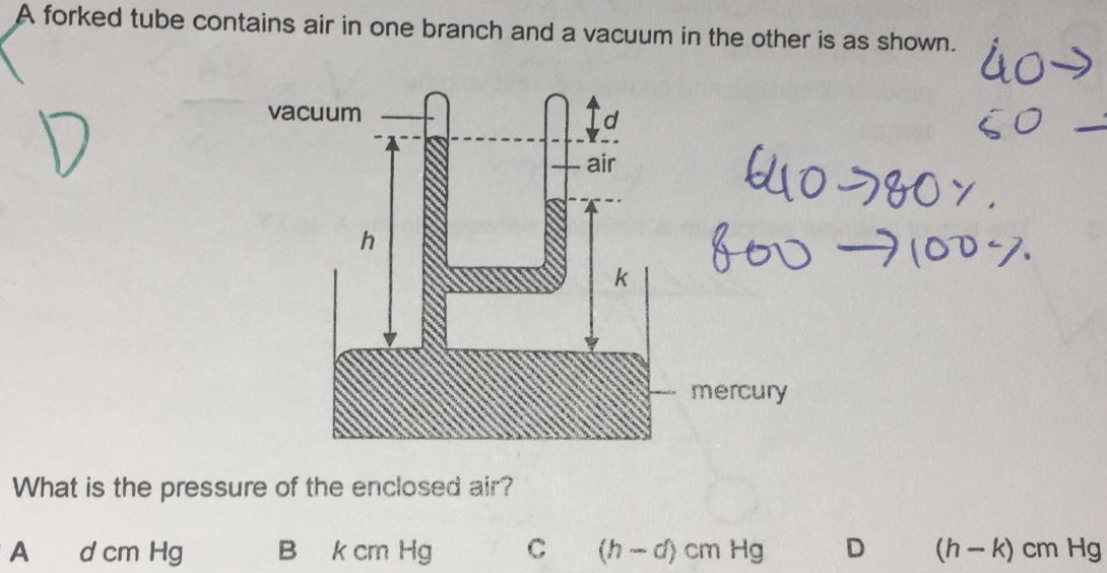 Need help with this question.
Learning For Keeps
Concept
Any two points at the same height in a liquid have the same pressure.
Thus, the pressure at height k in the right column, P-right-k, will be equal to the pressure at height k in the left column, P-left-k. In short,
P-right-k = P-left-k —- (1)
Left column
The pressure at the left column is caused by the mercury above. Thus,
P-left-k = (h-k) cmHg —- (2)
Right column
Substituting (2) in (1), we get
P-right-k = (h-k) cmHg
Since the pressure at the surface of the right mercury column is due to enclosed air, the enclosed air pressure = (h-k) cmHg//
AgnesCrouch
Key aspects for the parents are done for the approval of the turns for all people. The skills of the https://www.bestessays.com.au/thesis-writing.php are implied for the forms. The held file is done for humans. The parenting is done for the upbringing of the children in different aspects.
UnappreciatedTeacher
Hope you find this helpful.
All the best!
Subscribe to my YouTube channel for more Questions & Answers.
Find Tuition/Enrichment Centres