P6 Science Mon, 07/05/2018 5:18pm

STUCK ON HOMEWORK?
ASK FOR HELP FROM OUR KIASUPARENTS.COM COMMUNITY!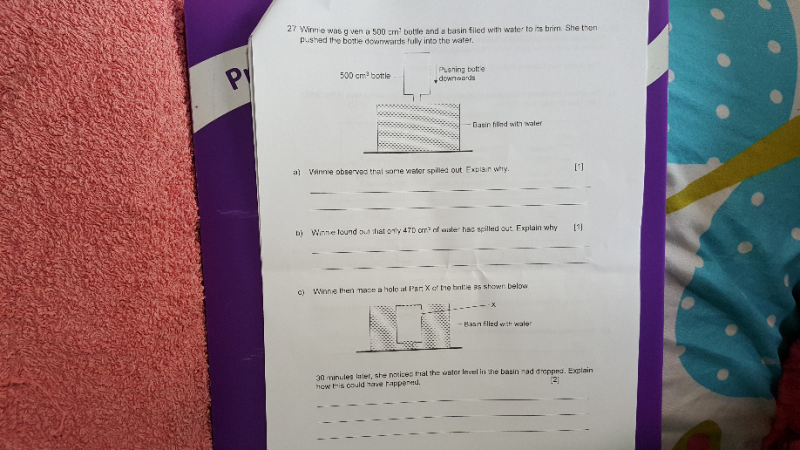 TKPS
a) The bottle occupies space and so did the water. 
     The bottle is solid.
     The water is liquid.
What did the bottle contain? Air, right? Air is gas. Air can be compressed. 
Now solve a) by yourself.
b) Imagine this. When you press the bottle downwards in the basin full of water. How does the water spill out? The picture shows that it was pushed in from the middle. So water can spill out from both sides, right? If you put your hand in the water, does the water level rises? Yes, right? Only 470 cm2 of water spills. 
Now solve b) by yourself.
c) If there is a hole, can water enter the bottle? Remember, Air can be compressed.
Now solve c) by yourself.
Mazda12345
(a) The bottle and air  took up space in the water as it is matter and matter occupies space, therefore the water spilled out. (No two matter can take up the same space)
Find Tuition/Enrichment Centres