P6 Science Mon, 07/05/2018 5:19pm

STUCK ON HOMEWORK?
ASK FOR HELP FROM OUR KIASUPARENTS.COM COMMUNITY!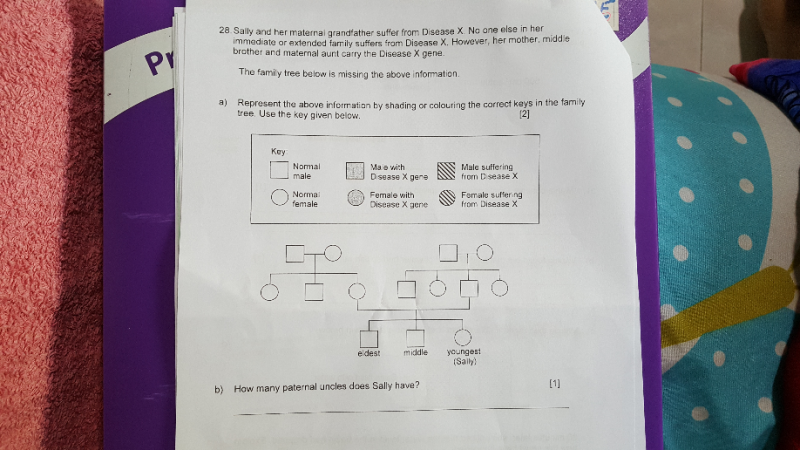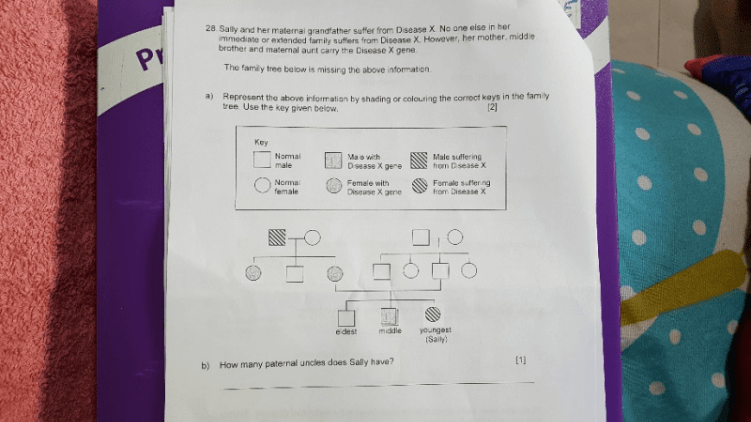 OnionRings
Hard to imagine P6 biology is asking questions about genetic inheritance.
Attached above is the answer to part a) with the diagrams filled up.
However, I believe there are errors in the question.
From a glance, the disease seem to be a X-linked recessive disease. However, the middle brother is a carrier. This is impossible if the disease is x-linked recessive, he can only be either suffer from disease X or not carry the disease X gene at all. It cannot be an autosomal recessive disease as well as Sally's maternal uncle is not a carrier. The disease cannot be dominant in nature as there are carriers and hence they are heterozygous in genotype. Also, for Sally to suffer from disease X will thus require her father to be a carrier for the disease as explained that the disease cannot be dominant in nature due to the fact that there are carriers. Thus I believe the question has mistakes.
Sally cannot be suffering from disease X if her father is not a carrier or homozygous for disease X.
The middle brother cannot be a carrier as he can only be either a sufferer of the disease or not carrying the disease X gene.
b) Sally has 1 paternal uncle.
Find Tuition/Enrichment Centres