P6 Mathematics Sat, 26/05/2018 11:30am

STUCK ON HOMEWORK?
ASK FOR HELP FROM OUR KIASUPARENTS.COM COMMUNITY!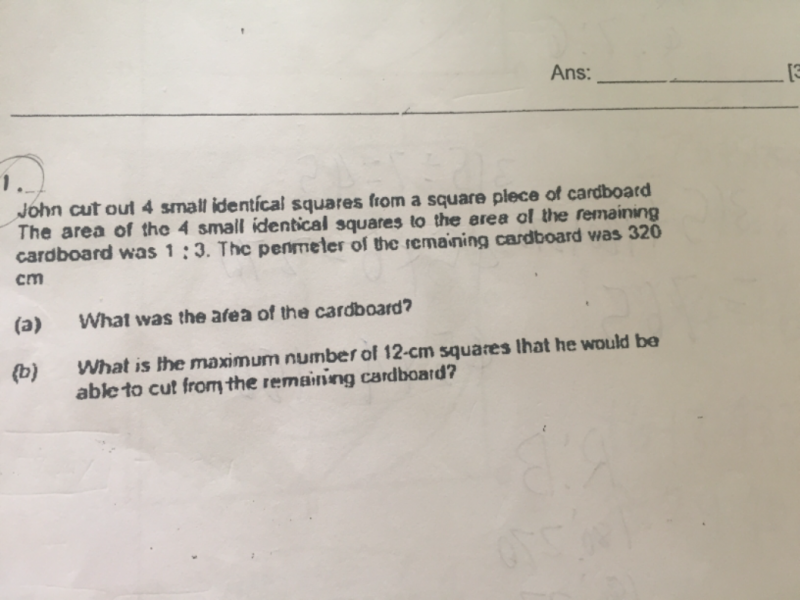 MathIzzzFun
Question is not properly set.
Amend the question as follows to remove any ambiguity :
John cut out 4 small identical squares from a square piece of cardboard The area of the 4 small identical squares to the area of the remaining cardboard was 1 : 3.  The perimeter of the remaining cardboard was 320cm.  The length of each small square and the length of the cardboard are whole numbers. 
a)What was the maximum possible area of the cardboard ?
b)Using your answer in part (a), what is the maximum number of 12-cm squares that he would be able to cut from the remaining cardboard ?
a) 6400 cm²
b) 29
I have pm you the solution.
cheers.
ContactMe20oo
Thank you!
Can PM again? Didn't get a chance to look at soln! 🙂
MathIzzzFun
pls check your pm.   cheers.
Find Tuition/Enrichment Centres