PSLE Mathematics Sun, 26/08/2018 4:45pm

STUCK ON HOMEWORK?
ASK FOR HELP FROM OUR KIASUPARENTS.COM COMMUNITY!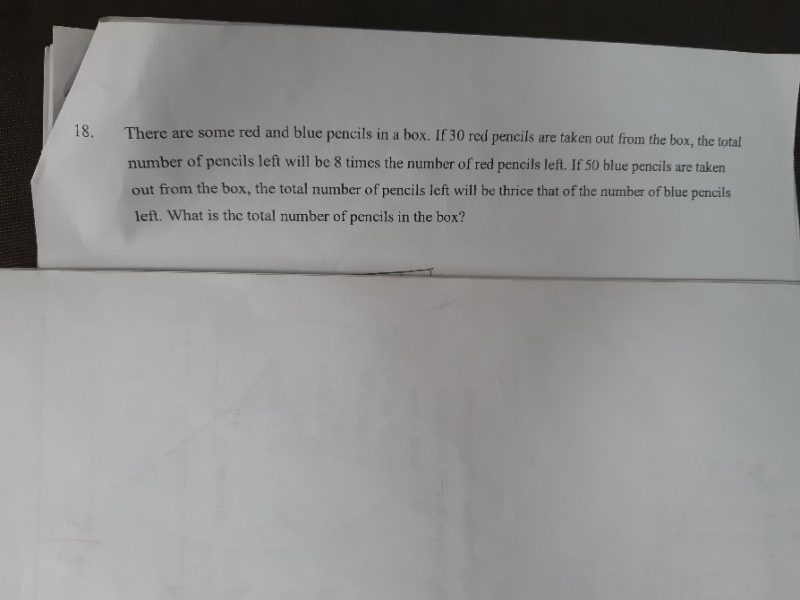 pls help.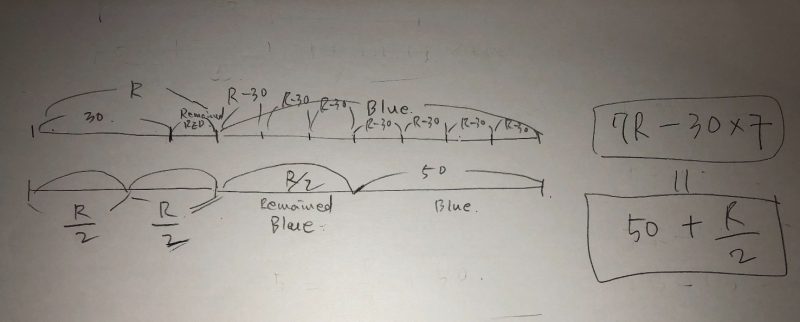 I recommend to use the graph or table if you kid does not understand algebra fully. The first case the Blue is 7 times of (R-30). The second case is the Blue is 50-R/2. 
Then, a simple algebra can resolve this. 
Please ask your kid to draw and understand the problem…. 
Hope this helps. 
AppleCrumble
Hi, everyone.  Just came across this interesting question and attempted to solve it.  But I have gotten a different answer.  Need advice from the experts here to let me know where my mistake is.
My solution:
At first, there are r red pencils and b blue pencils in the box.
Scenario 1, 30 red pencils are removed
Red pencils left -> r-30
Total pencils left -> r-30+b
Total pencils left is 8 times red pencils left
r-30+b -> 8(r-30)
7r-b -> 210
Scenario 2, 50 blue pencils are removed
Blue pencils left -> b-50
Total pencils left -> b-50+r
Total pencils left is 3 times blue pencils left
b-50+r -> 3(b-50)
2b-r -> 100
14r-2b -> 420 (from Scenario 1, multiply by 2)
13r ->520
r -> 40
b->70
Total number of pencils in the box -> 40 + 70 = 110
BigDevil
| | | | |
| --- | --- | --- | --- |
|   | Red | Blue | Total |
| Scenario 1: 30 red removed | 1u | 8u – 1u = 7u | 8u |
| At first | 1u + 30 | 7u | 8u + 30 |
|   |   |   |   |
| Scenario 2: 50 blue removed | 3p – 1p = 2p | 1p | 3p |
| At first | 2p | 1p + 50 | 3p + 50 |
Red:
2p = 1u + 30
1u = 2p – 30
Blue:
7u = 1p + 50
7(2p – 30) = 1p + 50
14p – 210 = 1p + 50
13p = 260
1p = 20
Total number of pencils -> 3p + 50 = 60 + 50 = 110
Find Tuition/Enrichment Centres