P6 Mathematics Fri, 07/09/2018 12:54pm

STUCK ON HOMEWORK?
ASK FOR HELP FROM OUR KIASUPARENTS.COM COMMUNITY!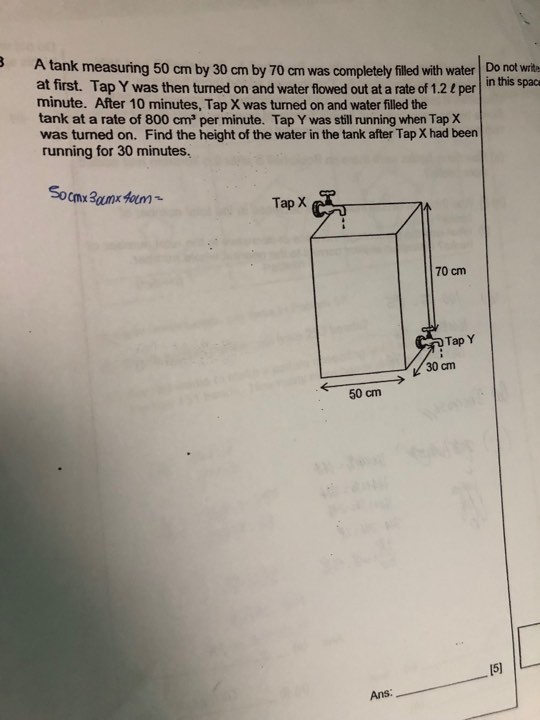 help pls…
THW
This is a straightforward question.
Calculate the volume of water in the tank. 
Subtract the volume that has flowed out from Tap Y.
Add the volume of water that has flowed in from Tap X. 
Divide by the base area of the tank.
That is the height of the water. 
Make sure you convert litres to cubic centimetres.
b
aftr added volume of water flowed through X it came 117000
and base ares is 1500 
answer 117000 divide by 1500??
THW
Volume = 50 x 30 x 70 – 40 x 1200 + 30 x 800
Height of water = Volume / Base area
Answer should be 54 cm. 
THW
Read the question carefully  
1st 10 minutes: Tap Y is on. 
Next 30 minutes: Tap X and Tap Y are on.
Altogether, Tap Y is draining for 40 minutes, Tap X is filling the tank for 30 minutes. 
Find Tuition/Enrichment Centres