P6 Mathematics Thu, 20/09/2018 1:20pm

STUCK ON HOMEWORK?
ASK FOR HELP FROM OUR KIASUPARENTS.COM COMMUNITY!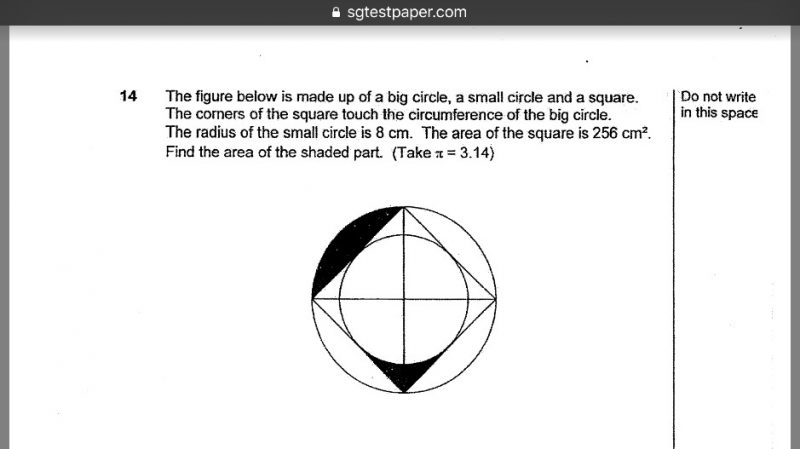 Need help with detailed working. Can't u/S some of the given solns
mgs 
THW
The area of ¼ of the square = 256 ÷ 4 = 64 cm²
Let R cm be the radius of the larger circle.
Since ¼ of the square is a right-angled triangle with base and height of R cm, the area of the triangle = ½ × R × R = ½R² cm²
So ½R² = 64
R² = 128
So the area of the larger circle = πR² = 128π
The area of the shaded part in the top left hand side of the figure = (Area of the larger circle – Area of the square) ÷ 4 = (128π – 256) ÷ 4 = (32π – 64) cm²
The area of the shaded part at the bottom = (Area of square – Area of the smaller circle) ÷ 4 = (256 – π8²) ÷ 4 = (64 – 16π) cm²
Total area of the shaded parts = (32π – 64) + (64 – 16π) = 16π = 16 × 3.14 = 50.24 cm²
Find Tuition/Enrichment Centres