P6 Mathematics Sun, 25/11/2018 4:22pm

STUCK ON HOMEWORK?
ASK FOR HELP FROM OUR KIASUPARENTS.COM COMMUNITY!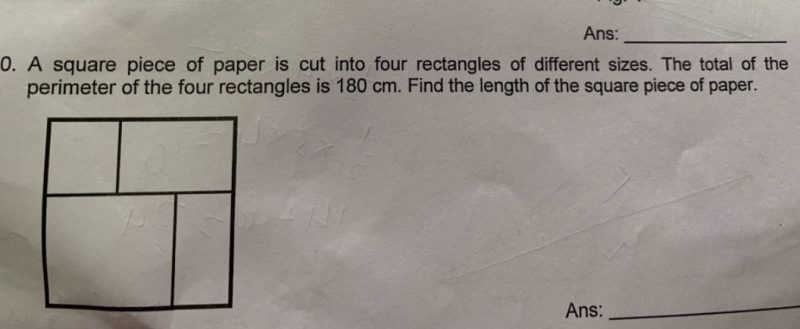 Hi All,
Please help on this question.
Thanks
StuckWithMath
The total perimeter of the Square Paper is actually half of the total perimeter of the 4 rectangles.         (by just counting from the picture. 2 sides of each rectangle form the square)
Therefore,
180 / 2 = 90cm
90 / 4 = 22.5cm 
alfretztay
Aligning the lower in-between vertical line with that of the upper in-between vertical, there would be 8 similar lengths and 8 similar breadths.
180/8 = 22.5
Ans : 22.5 cm.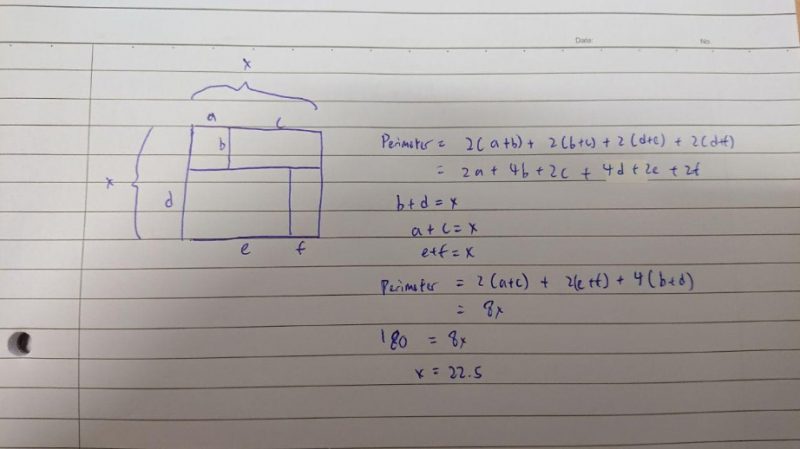 learnwithsherpa
We hope this was helpful for you! We are a group of university students trying to build an education startup and we would be very grateful if you could visit our website and leave any comments/feedback you have. Thank you!
http://www.learnwithsherpa.com/
Find Tuition/Enrichment Centres