P4 Science Fri, 07/12/2018 12:09am

STUCK ON HOMEWORK?
ASK FOR HELP FROM OUR KIASUPARENTS.COM COMMUNITY!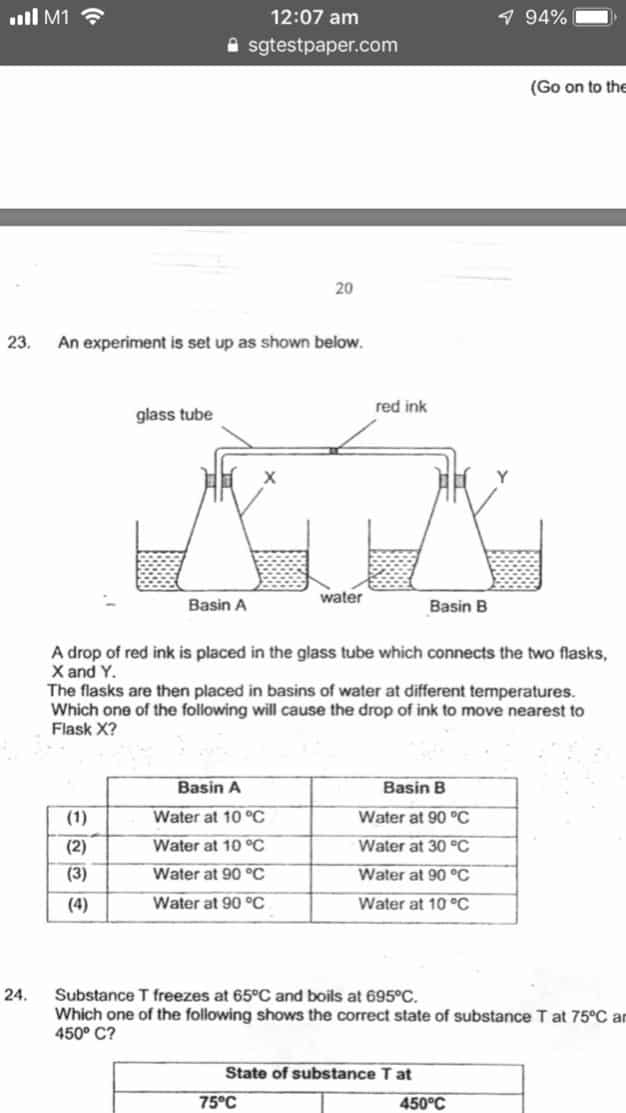 Hi, can someone explain why the answer is option 1? Thanks!
Zappy
The air in flask Y gains heat from the hotter 90C water in Basin B and expands. The air then moves into the glass tube and pushes the drop of red ink towards Flask X. 
Option 1 : Gains most heat from B, expands the most, pushes red ink furthest to X. 
Option 2: Similar to Option 1, but gains less heat since water is only 30C, so it moves less towards X.
Option 3: Both sides same temp, expansion is the same, ink drop will not move.
Option 4: Same mechanism as Option 1, but in opposite direction
PlayfulFairy
 Hi Zappy, 
I understand that when the flask Y is in hotter water, it will expand. But how does it push the ink towards flask X?
Zappy
The AIR in flask Y will expand more than the AIR in the other flask. Not the flask per se. So if the AIR expands, the volume of air increases, therefore the air has to go somewhere… up into the tube and thus pushing the ink droplet.
Find Tuition/Enrichment Centres