P6 Mathematics Thu, 03/01/2019 10:05pm

STUCK ON HOMEWORK?
ASK FOR HELP FROM OUR KIASUPARENTS.COM COMMUNITY!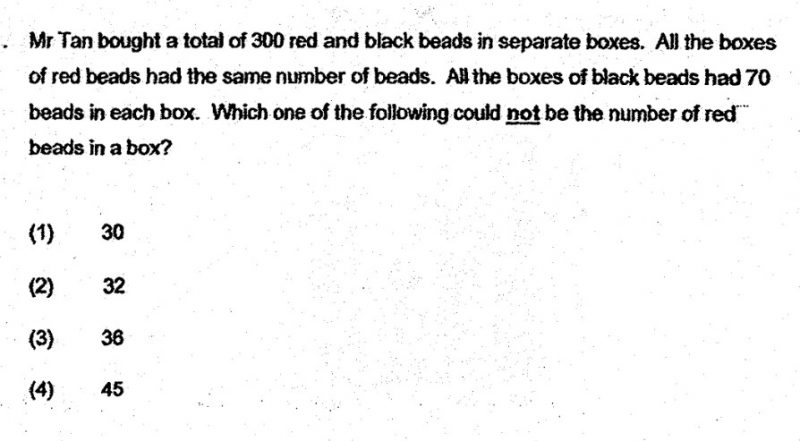 hi, can help us solve this question? thank you!
Source: Methodist Girls' School Primary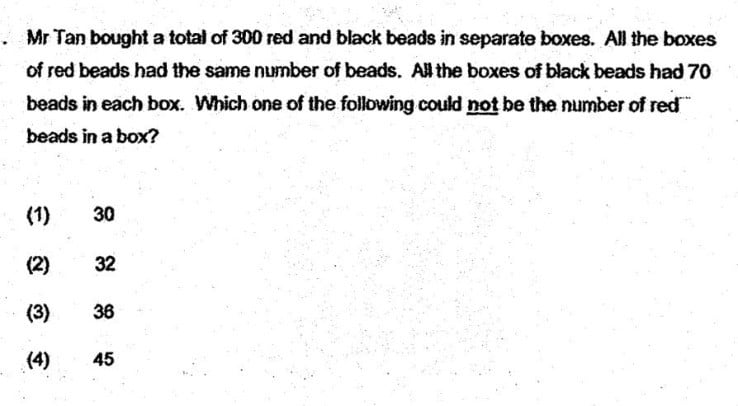 Hi Mrs Marcus,
There may be a typo error in option 4. Should it be 46 instead of 45?
My working is based on the assumption of option 4  is 46.
Working:
Listing of the multiples of each number for Red Beads (need multiples that have '0' in ones place)
30 : 30, 60, 90, 120
32 : 32, 64, 96, 128, 160
36 : 72, 108, 144, 180
46 : 46, 92, 138, 184, 230
| | | | |
| --- | --- | --- | --- |
| Black Beads (Boxes) | Black Beads (Number) | Number of Red Beads | No of Red Beads in a Box |
| 1 box | 70 | 300 – 70 = 230 | 46 |
| 2 boxes | 140 | 300 – 140 = 160 | 32 |
| 3 boxes | 210 | 300 – 210 = 90 | 30 |
| 4 boxes | 280 | 300 – 280 = 20 | No option |
Answer: (3) 36
Find Tuition/Enrichment Centres