P6 Mathematics Thu, 20/06/2019 4:53pm

STUCK ON HOMEWORK?
ASK FOR HELP FROM OUR KIASUPARENTS.COM COMMUNITY!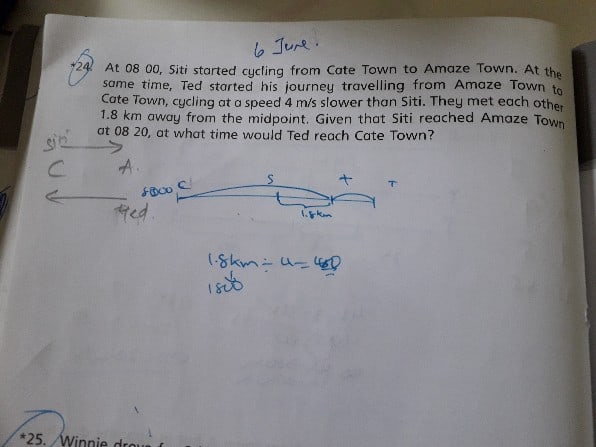 Please solve this problem
Dofkehang
Siti covered 1.8*2=3.6km more than Ted did when they met each other because of the speed difference.
So it took 3.6km/4m/s=900s before they met each other. 
lets say half of the distance is x, it took Siti 900s to meet Ted and 20*60=1200s to finish the travel
average speed for Siti was unchanged. So  (x+1800)/900=2x/(20×60) ⇒x=3600m
Siti's Speed=(3600+1800)/900=6m/s, Ted's speed=2m/s
time for Ted to reach =2*3600/2=3600s=60min, so he would reach there by 0900.
Find Tuition/Enrichment Centres