P6 Mathematics Sun, 28/07/2019 6:52pm

STUCK ON HOMEWORK?
ASK FOR HELP FROM OUR KIASUPARENTS.COM COMMUNITY!

Anyone can help please…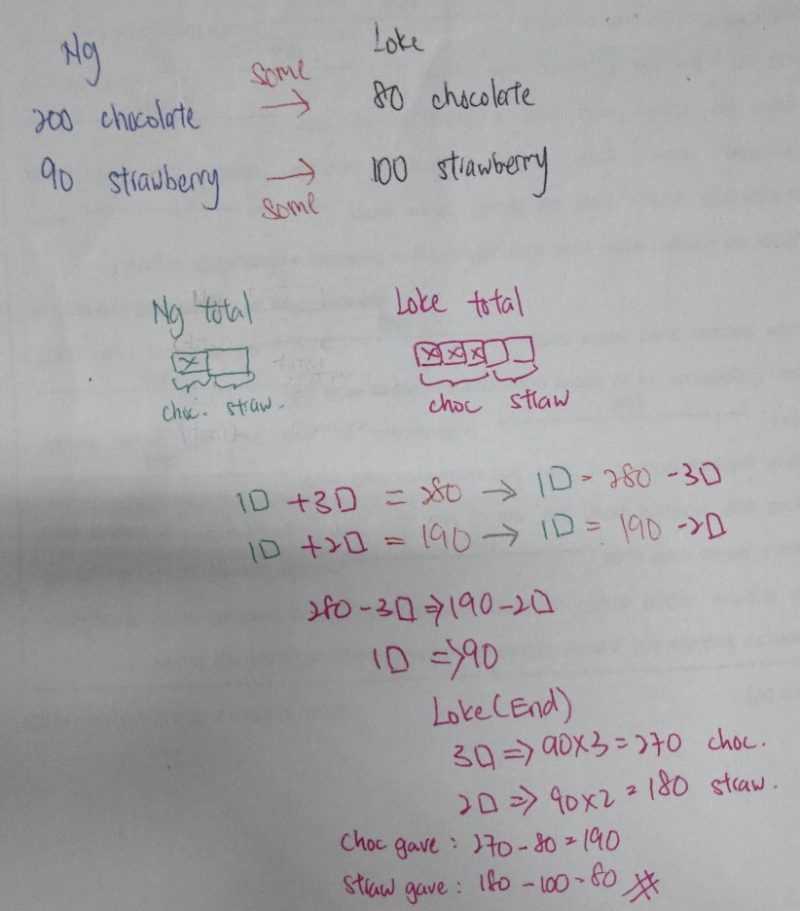 Owlinker
silaz777
Not so sure with the syllabus, but saw it has algebra. you may use model to replace if need. 
Answer:
In order for Mr Ng to have 1/2 of his muffins chocolate, he needs to give at least 110+x chocolate muffins and x strawberry muffins (to end up with 90-x chocolate and 90-x strawberry)
Mr Loke will thus have 190+x chocolate muffins, and 100+x strawberry muffins. 
190+x = 3y (3 portions) — (1)
100+x = 2y (2 portions) — (2)
resulting in y=90 [above (1)-(2)]
100+x = 2(90) = 180, thus x =80
Mr Ng gave a total of 110+80 chocolate muffins and 80 strawberry muffins (total of 270 muffins given) 
Find Tuition/Enrichment Centres