PSLE Mathematics Mon, 12/08/2019 1:28pm

STUCK ON HOMEWORK?
ASK FOR HELP FROM OUR KIASUPARENTS.COM COMMUNITY!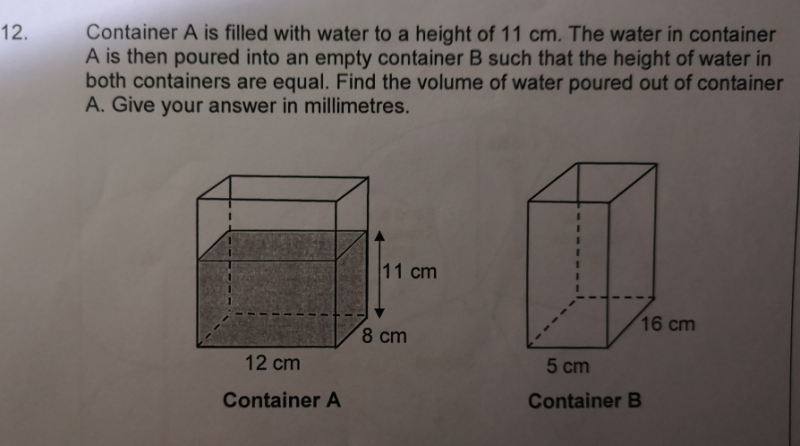 Hi there, anyone can help for this please… My son is stuck with some homework..
Orckids
Volume of water in container A = 8 x 12 x 11 = 1056 cm3
Surface area of A = 12 x 8 = 96
Surface area of B = 16 x 5  = 80
Height of water in both containers = 1056/ (96 + 80) = 6cm
Volume of water taken out from container A = 12 x 8 x 5 = 480 cm3
480 cm3  = 4800 mm3
Adwin
The problem is that most schools or teachers at the primary level will teach the students to remember that the formula for volume is (Length x Breath x Height). However, this is true only if the container is a cube or cuboid (rectangular).
Students should understand that the formula to calculate volume for regular shaped containers is (Base Area x Height). Length x Breath just so happens to be the formula to calculate the area for a rectangle.
This way, the (96 + 80) working by Orckids, which is the combined base area for both containers, would make more sense to students.
Find Tuition/Enrichment Centres