P4 Mathematics Sat, 05/10/2019 8:18pm

STUCK ON HOMEWORK?
ASK FOR HELP FROM OUR KIASUPARENTS.COM COMMUNITY!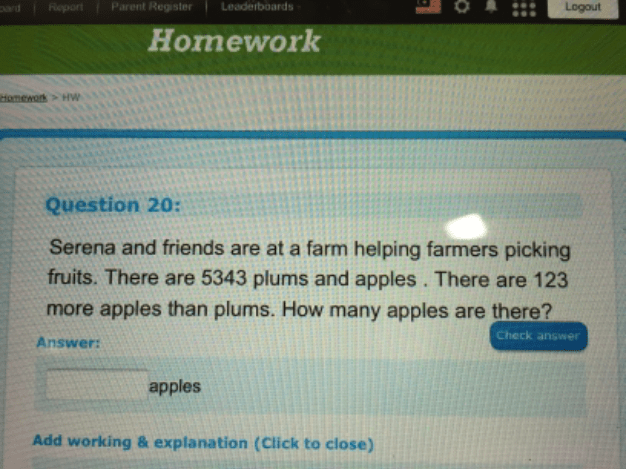 Please help
Zowee
Hello there 🙂
Once again the difficulty is to convert word into an equation.
Let's say that 
'a' is the # of apples and 'p' the # of plums
We have according to the wording:
a+p=5343 (1) 
And we have:
a=p+123 (there are 123 more apples than plums) (2) 
By replacing 'a' in  (1) we have:
p+123+p=5343 so we have : 2p=5343-123=5220
So p= 2610
Then we replace 'p' in (2):
a=2610+123= 2733
Let's verify our results
2610+2733=5343
There are 1615 plums and 1738 apples!
Hope you understand the logic and will be able to do it afterward! 
Thanks
Adwin
There are 123 more apples than plums
Plums : apples
1 unit : 1 unit + 123

There are 5,343 plums and apples
1 unit + 1 unit + 123 = 5,343
2 units + 123 = 5,343
2 units = 5,343 – 123
2 units = 5,220
1 unit = 2,610
2,610 + 123 = 2,733 apples
Find Tuition/Enrichment Centres