P5 Mathematics Mon, 07/10/2019 11:46pm

STUCK ON HOMEWORK?
ASK FOR HELP FROM OUR KIASUPARENTS.COM COMMUNITY!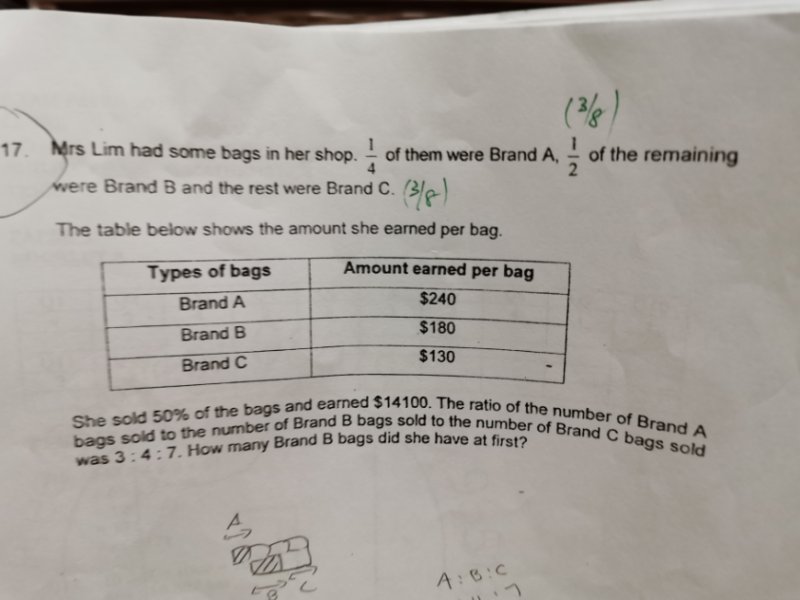 Hi,
Can someone help on this qns?
Thank you. 
MisterKwong
Hi, feel free to have a look at the video explanation.
Hope it helps. 🙂 
SAHMom
let total no. of bags be 8u, Brand A is 2u, and Brand B and Brand C are 3u each. Then KIV this info.
I used ratio method below but present in table for easy typing here. Can follow starting arrows (–> ) while filling up this table.
 
A
B
C
Total
Unit selling price
$240
$180
$130
 
No. sold in 1 set
3
4
7
 

–>

$ takings per set–>
$720 —>
$720 –>
$910 —>
–>$2,350
14100/2350 = 6 sets <–
<—
<—
<—
$14,100

<–

–>

Total no. sold in 6 sets
18—>
24—>
42—>
–>84 (which is 50%)
 
 
 
 
100% is 168
 
 
3u=3 x 168/8 = 63#
<—
168 is

8u

<–
Find Tuition/Enrichment Centres