P5 Mathematics Thu, 10/10/2019 10:54pm

STUCK ON HOMEWORK?
ASK FOR HELP FROM OUR KIASUPARENTS.COM COMMUNITY!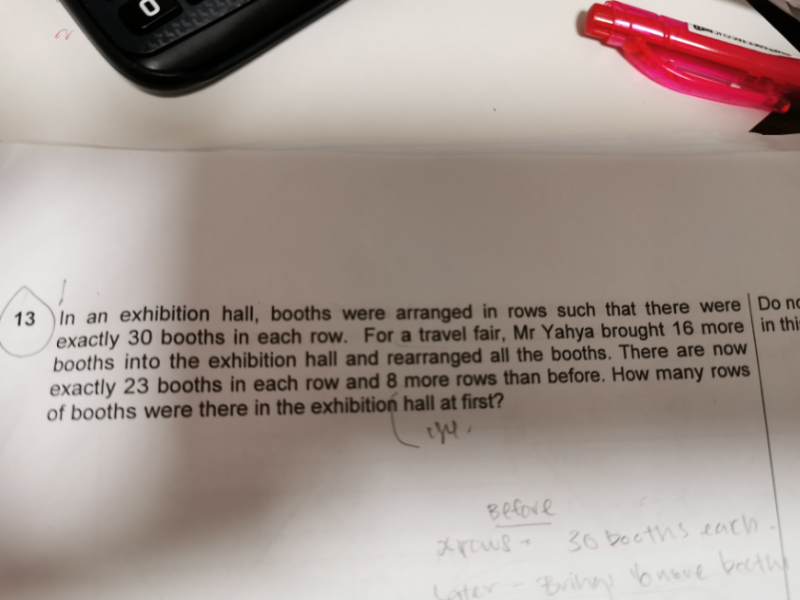 Can someone please help?
Thanks 😊
Zowee
The difficulty here is to adapt words into an equation.
Let's say x=the number of rows at the beginning
Therefore we have:
Number total of booths at the beginning = 30x 
Number total of booths after Mr. Yahya brought more = 30x + 16
Then we know according to the wording:
30x+16=23(x+8)  // (x+8) equals to the new number of rows
Then it's just a simple equation to solve
    30x = 23x + 184 – 16
    7x= 168
      x= 24
At first, there were 24 rows in the exhibition. 🙂
SAHMom
If not using algebra, but to explain below if the child can understand the scenario:
there are now 8 more rows of 23 booths = 8 x 23 = 184 booths.
Of which 16 booths are the "extras brought  in" and 
And the other booths (184-16=168) came from the "pulled-out 7 booths per row".  (30-23=7)
168/7 = 24 (original) rows at first.
Find Tuition/Enrichment Centres