P5 Science Sun, 03/11/2019 10:33am

STUCK ON HOMEWORK?
ASK FOR HELP FROM OUR KIASUPARENTS.COM COMMUNITY!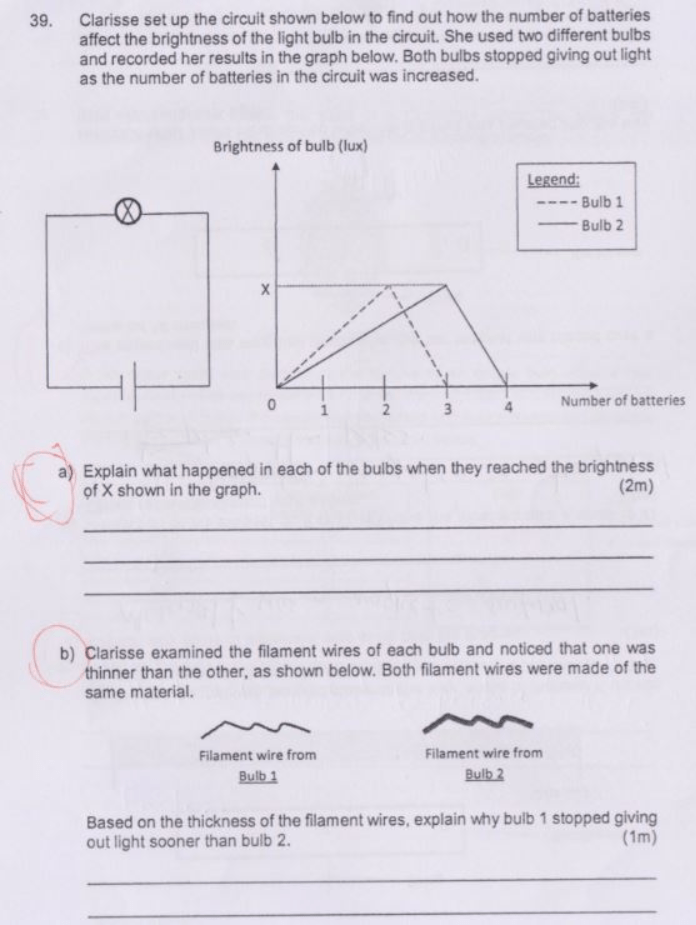 Hi need help for question a)   and  b).  Don't know how to phrase the answers. Thanks in advance!
Adwin
a) Electricity is flowing through Bulbs 1 and 2. The filament wires in both bulbs conduct electricity, gaining heat in the process, and glow with a brightness level of X. Bulb 1 requires only 2 batteries to reach brightness level X whereas Bulb 2 requires 3 batteries to reach the same brightness level.
b) As more batteries are added to the circuit, the amount of electricity running through the filament wire increases, leading to an increase in heat energy as well. If the filament wire is unable to conduct the increase in heat energy, it will melt and break off, leading to a blown bulb. The thicker filament wire in Bulb 2 is able to conduct (absorb) more heat before melting or breaking off as compared to the thinner filament wire in Bulb 1, so Bulb 2 will last longer.
jasperrr
Thanks Adwin for the detailed answers!
Find Tuition/Enrichment Centres