P5 Science Wed, 18/12/2019 1:22pm

STUCK ON HOMEWORK?
ASK FOR HELP FROM OUR KIASUPARENTS.COM COMMUNITY!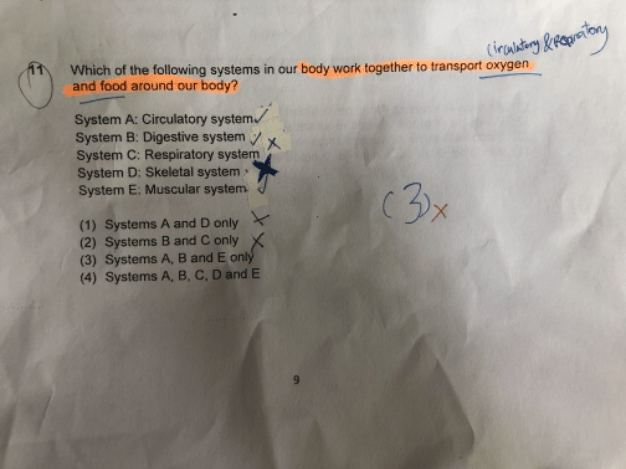 Hi,
the answer given is 4. What's the real answer ? Thanks
Adwin
The answer is indeed (4) although this arguably isn't a very well-set question since it does require some knowledge that is outside the primary school syllabus.
In general:
Circulatory system – transports nutrients to all parts of the body through a network of blood vessels
Digestive system – helps to break down food into simpler substances so it can be absorbed into the body
Respiratory system – regulates the flow of oxygen which is then carried to all parts of the body by the circulatory system
Skeletal system – marrow inside our bones produces the red blood cells. The red blood cells are responsible for giving oxygen to the tissues in exchange for carbon dioxide
Muscular system – general movement helps the circulatory system to function effectively. A more specific instance of them working together is when the muscles in the legs expand and contract accordingly to help to pump de-oxygenated blood back to the heart (to counter gravity)
Find Tuition/Enrichment Centres