P5 Science Fri, 27/12/2019 9:24pm

STUCK ON HOMEWORK?
ASK FOR HELP FROM OUR KIASUPARENTS.COM COMMUNITY!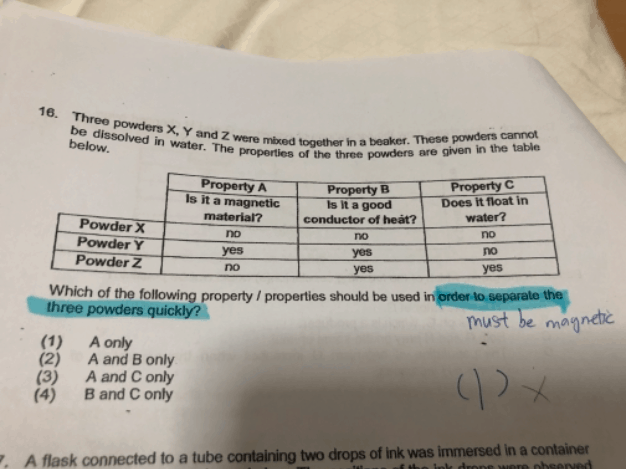 Hi , how do I explain for answer – option 3? Thanks!
Adwin
We want to separate the Powders X, Y and Z. Let's see what happens if we use each of the property:
Property A: Magnetic material?
From the table, only Powder Y is magnetic. Therefore, we can very quickly separate all of Powder Y using a magnet.
Property B: Good conductor of heat?
From the table, we know that both Powder Y and Z are good conductors of heat. However, that doesn't help us very much and there isn't a reliable way we can separate them out based on how well they conduct heat unless we know the respective melting points.
Property C: Float in water?
This property should be quite self-explanatory. Since only Powder Z floats in water, it is very easy to separate all of Powder Z.
From the above, just by taking advantage of Powder Y being a magnetic material and Powder Z floating in water, we can already very quickly separate all three powders. Therefore, the answer is (3).
Find Tuition/Enrichment Centres