P6 Mathematics Wed, 04/03/2020 3:58pm

STUCK ON HOMEWORK?
ASK FOR HELP FROM OUR KIASUPARENTS.COM COMMUNITY!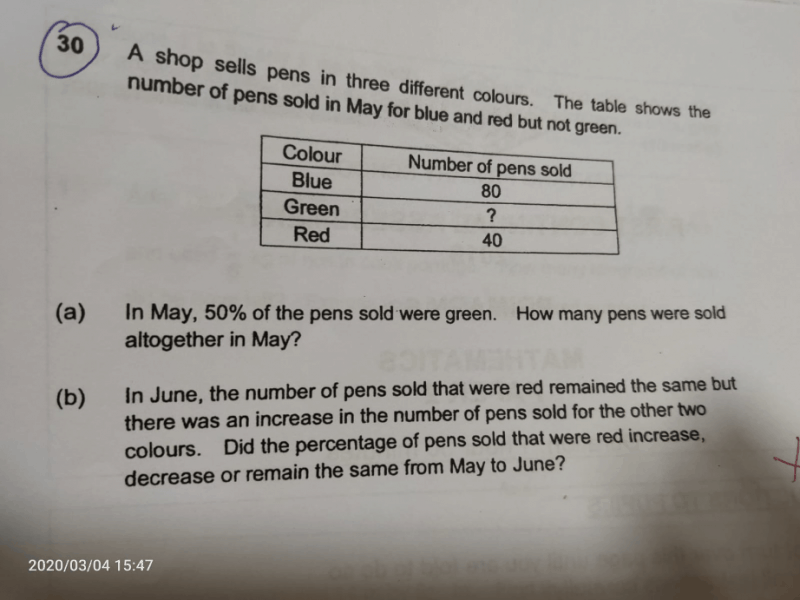 Can you please help to solve this problem?
HaydenFAH
Hi
To answer part a,
The number of of green pens sold in May turned out to be 50%. That also means that the total number of blue and red pens also make up to be 50%! Because 50% + 50% makes up 100%.
So now that we know that blue and red also makes up 50%, and they add up to be 120 in total. It tells us that 50% of the total number of blue, red and green pens is 120. So therefore, 100% of the of the pens will be 240.
For part b,
When there is an increase in sales for every other colour, except for the red, we can see it as the red becoming proportionately smaller, as our base becomes bigger.. It would mean that the percentage of the red has decreased among all the colours sold.
Do feel free to drop me a message if you need more help!
We provide coaching for small, focus groups of students at Future Achievers Hub at Tampines Junction.
Do check out:
or call us at +65 83325521,
for more info and sign up for Free Classes now!
Find Tuition/Enrichment Centres