P6 Mathematics Fri, 03/04/2020 5:23pm

STUCK ON HOMEWORK?
ASK FOR HELP FROM OUR KIASUPARENTS.COM COMMUNITY!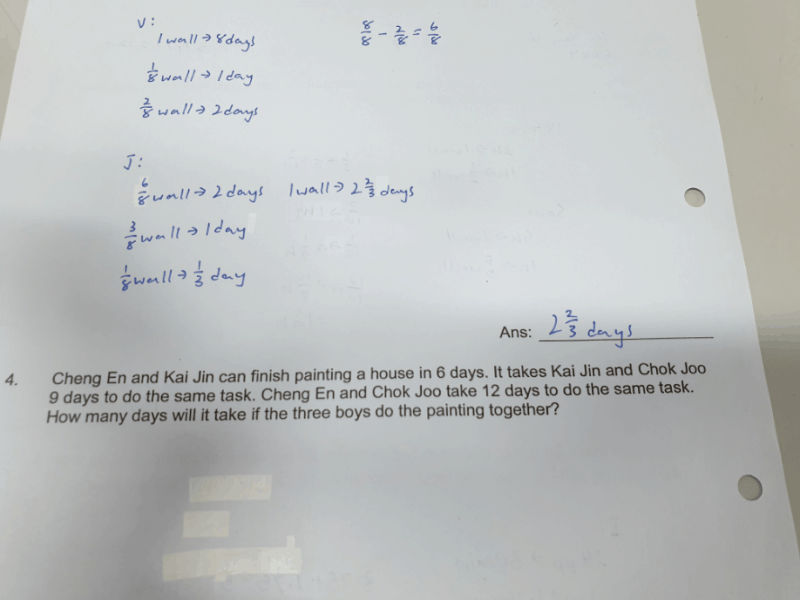 Pls help solve. Thanks
jyteoh
This is a speed/rate question. One can refer to Art of Problem Solving Vol 1 Chapter 3 for a friendly guide on the topic.
To simply the working, we name Cheng Eng as A, Kai Jin as B, and Chok Joo as C.
Using the equation: speed * time = "distance" (or in this case, the fraction of the house painted),
[speed(A) + speed(B)]* 6 = 1 (fully painted house)
so [speed(A) + speed(B)] = 1/6 of the house painted per day
Using a similar argument, we have:
[speed(B) + speed(C)]* 9 = 1 (fully painted house)
so [speed(B) + speed(C)] = 1/9 of the house painted per day
[speed(A) + speed(C)]* 12 = 1 (fully painted house)
so [speed(A) + speed(C)] = 1/12 of the house painted per day
Adding everything together,
[speed(A) + speed(B) + speed(C)] = 1/2{[speed(A) + speed(B)] + [speed(B) + speed(C)] + [speed(A) + speed(C)]} = 1/2 (1/6 + 1/9 + 1/12) = 13/72
Hence if it takes t days for all of them to paint the house together, we have
t * 13/72 = 1
t = 72/13 = 5 + 7/13 
Find Tuition/Enrichment Centres