PSLE Mathematics Sat, 23/05/2020 4:17am

STUCK ON HOMEWORK?
ASK FOR HELP FROM OUR KIASUPARENTS.COM COMMUNITY!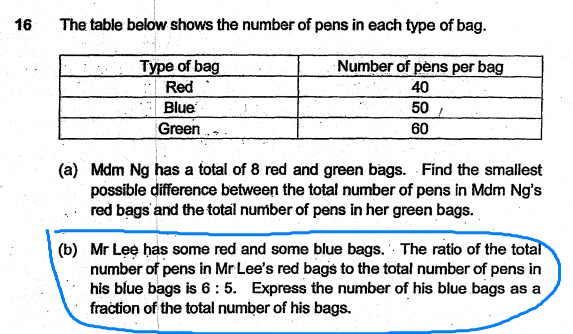 Hi, can someone help with part b?
Thank you!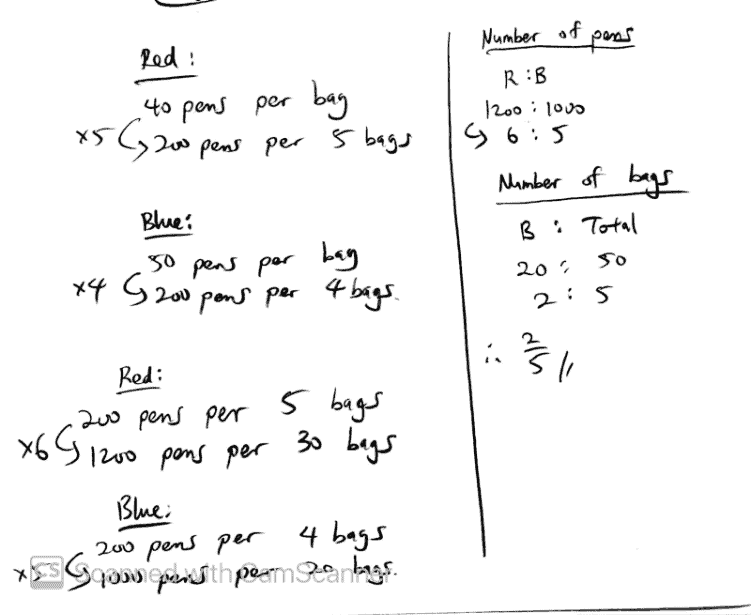 HaydenFAH
Hi KateM, 
Let me try to help you out with this. Hope my working can be helpful.
We try to make the number of pens of each red and blue bags of the same quantity. Since we know that there are 40 pens per red bag and 50 pens per blue bag, we know that 5 red bags and 4 blue bags will allow us to have 200 pens from each type of bag. At this point, the ratio of pens is now 1 : 1.
In order to have the ratio 6 : 5, we will multiply the number of red bags by 6 and blue bags by 5. That can be seen in the steps above, in my working.
Therefore, we have 20 blue bags, 30 red bags, and 50 total number of bags.
Hence, the correct answer would be 2/5.
Hope this helps! Feel free to PM me (:
http://www.futureachievers.com.sg
9114 3397
KateM
Thank you very much for the answer HaydenFAH!
Find Tuition/Enrichment Centres