P6 Mathematics Tue, 16/06/2020 4:28pm

STUCK ON HOMEWORK?
ASK FOR HELP FROM OUR KIASUPARENTS.COM COMMUNITY!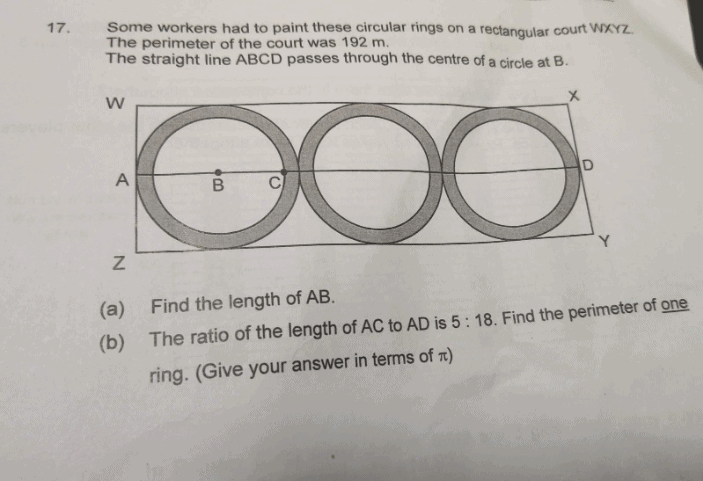 can someone please help to solve this question

HaydenFAH
Hi mezmer, let me try to help you out on this. 
I will explain how we can solve the question for part a) first.
By drawing these blue lines in the figure, we can see that the court has been cut into 3 identical squares. Each square will have a side that will be u-metre long. 
There will be a total of 8u along the perimeter of the court. Since we are given that the perimeter of the court is 192 metres:
8u will be 192 metres.
so,
1u will be 24 metres.
We can see that the diameter of one circle, inclusive of the shaded ring, is also 24 metres.
Therefore, AB is half of 24 metres, which is 12 metres.
There will be a need for some step-by-step drawing on this diagram for a much better understanding on how to solve part b). I will be more than happy to share them with you if you are interested! I can provide in-depth explanation and solution for this question. Just let me know.
Hope this solution provided above helps!
Feel free to PM or text me (:
http://www.futureachievers.com.sg
9114 3397
mezmer
Thank you for the detailed explanation
Find Tuition/Enrichment Centres