P6 Science Mon, 20/07/2020 3:43pm

STUCK ON HOMEWORK?
ASK FOR HELP FROM OUR KIASUPARENTS.COM COMMUNITY!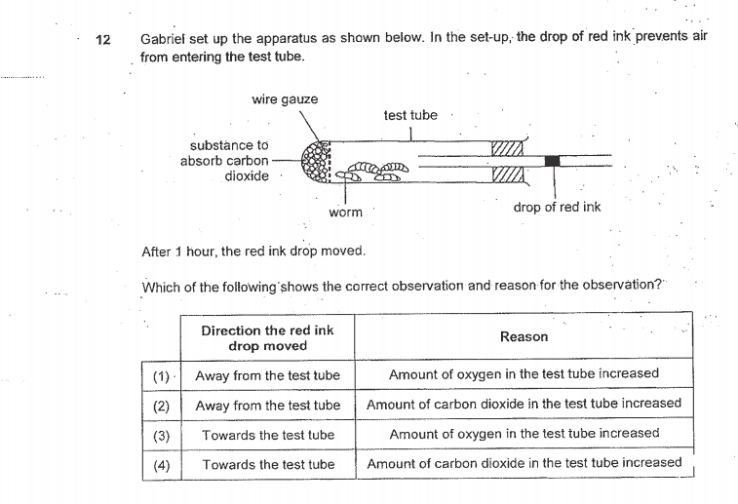 The answer is 4. Please help, I do not understand! Thank you.
Thrive Psychology Clinic
There are two possibilities. 
Either there is a typo, and it is supposed to say that the Amount of carbon dioxide in the test tube DECREASED.
Thrive Psychology Clinic
The other possibility is that because the substance can only absorb a limited amount of carbon dioxide, while the worms would release an amount more than what the substance can absorb, hence it still increased.
Though I would think that the first option is more likely.
Suma Vaddadi
@Thrive Psychology Clinic 
Why would the first option be more likely? The amount of oxygen can't possibly increase. It would stay the same, wouldn't it? And if the carbon dioxide in the test tube increased, shouldn't the drop of ink move away from the test tube? I guess it is a typo error like you said. Thanks anyway for answering my question! :)))
Find Tuition/Enrichment Centres